You are going camping with your friends to spend your vacation and have no idea how to keep food cold while camping. Is this what you need to worry about while camping? No, not at all. As of today I'm sharing the idea of how to keep food cold while camping and gathering all the suggestions about it and also reviewing three coolers for keeping the food cold. As a result, you can choose the ideal one for your camping trip! Rock your camping and don't ruin the fun of camping worrying about it. Just read my full blog and follow the rules and way out of keeping the food cold.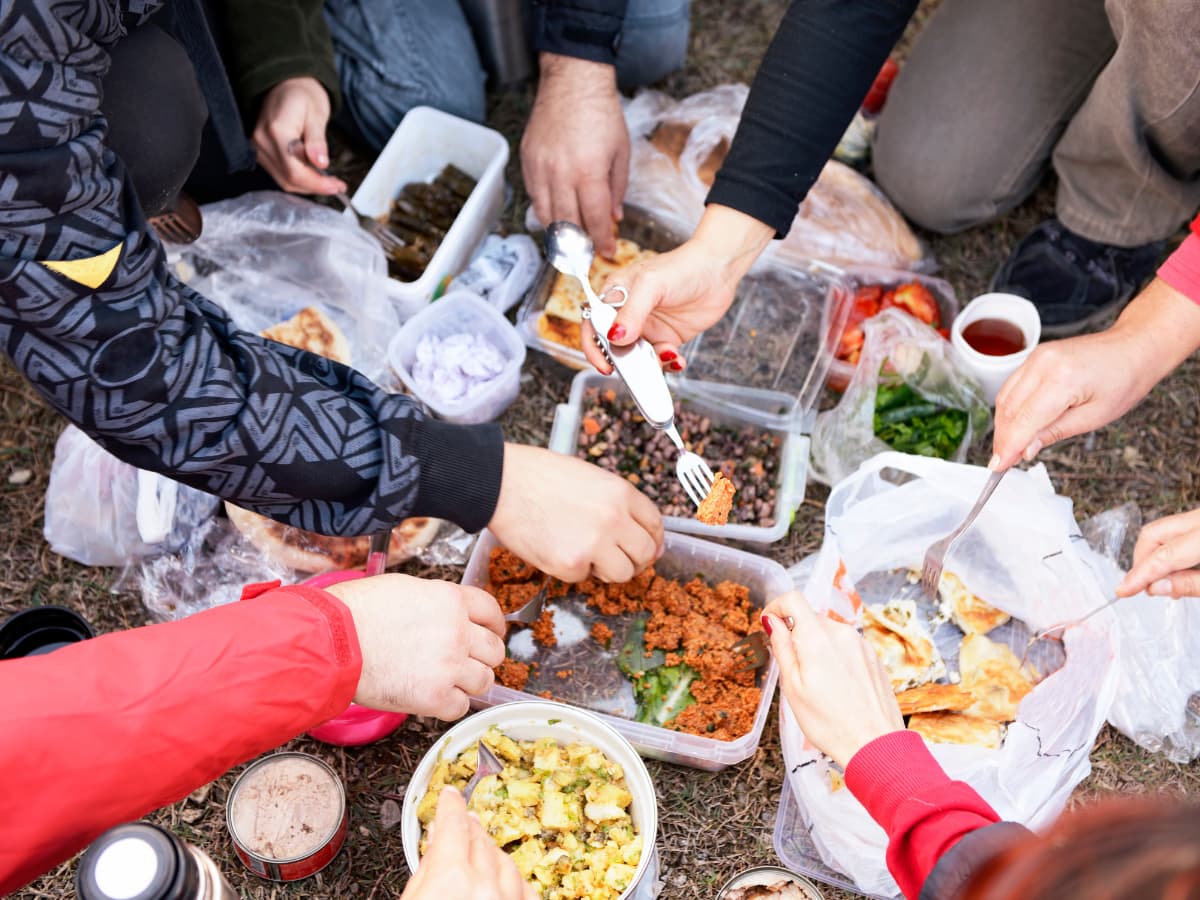 How to keep food cold while camping?
While camping, if the food is not properly preserved and cold, there is a chance of having bacterial effects and food poisoning. So, there always remains a question how to keep food cold while camping? Before camping, make sure that you know the guidelines about your health and safety. This is what you should worry about when you're camping. Now find the way out to prepare yourself for your next camping trip. Follow the following steps to know how to keep food cold while camping. This is the first step to proceed, so must read it carefully!
Pre-Chill The Cooler:
If you want the best performance from any of the coolers, you should pre-chill it. The outer part and the walls usually remain hot. So, when you put ice-cubes and contents without pre-chilling, the ices are going to melt. That reduces the performance of the cooler. So, always pre-chill it.
You can throw some iced water bags inside it. Keep it overnight. Besides this, you can also keep the cooler in the air-conditioned room. Moreover, keeping the cooler inside a deep freeze if available also works.
Freeze The Food Items:
Before keeping the food items inside the cooler, you should refrigerate the food. It will be better if you freeze them a day before you leave. Otherwise, the unfrozen foods will consume all of the power of the cooler. It will reduce the performance of the cooler. So, freeze the food before a day. Then pack the frozen foods properly with the crushed ices on top and bottom of the foods.
Ice Packs For Camping:
If you don't use the quality type of ice, you won't get the proper performance of the cooler. So, choose the proper ices first. You can have a bag of ice. This is okay. But if you use only the crushed ices, there is a chance of melting the ices so fast.
The best way to have bottled water is to be iced by freezing them. Firstly, put the bottle as a layer inside the cooler, then put the layer of crushed ice. You can drink bottled water while camping. Mainly, larger ice packs are way more effective.
Another way is to use thermal ice packs. They are thicker and hard so they remain colder than anything else. You can also reuse them.
If you want to make ice packs on your own, follow some steps. First, mix a bit of salt with cold water in a freezer bag [Mixing salt with water may reduce the melting point of water]. Then, squeeze out the remaining air inside the freezer bag. After that, freeze the bag. Besides salt, you can also add a bit of dish soap. That also helps in making flexible ice packs.
Precautions!
We don't recommend using dry ice. If you can handle it, you can use it. Don't touch dry ice directly! But it is kind of a hazard when it is in a small space. Moreover, it turns into carbon dioxide when it melts. A person may get unconscious and sometimes, it might take lives.
Pack The Food Perfectly:
You have to follow some rules for packing the food. The food that requires the most cooling, place them closer to the bottom of the cooler. Especially meat, assorted frozen food should be the coolest. As these foods tend to rot, take great care of them. Cover them with aluminum foil. Otherwise, it will make other foods stain.
Don't pack too much food forcefully inside the cooler as you have to put the ice packs at the top of the food.
Pack Your Cooler Tightly:
Free space in the cooler reduces its performance. So, tighten the cooler as much as you can. First, put ice and then fill it with food. After that fill the other spaces with ice.
Place The Cooler Away From Sunlight While Camping:
Don't keep the cooler directly under the sun. Keep it under shades. Like you can put it under trees, tents, cars, storage spaces, etc. You can also cover it with a blanket or cloth (white preferable). Moreover, as the day goes on, the position of the sun changes. So, according to the position of the sun, keep it away from the sunlight.
Don't Open The Cooler Too Frequently:
The more you open the cooler, the less effective performance you will get. If you open the cooler frequently while storing contents, the warm air of outer space rushes inside the cooler. The ice inside the cooler will melt fast. So, the performance of the cooler will diminish. So, avoid opening the cooler too much! If you keep the cooler undisturbed, your cooler will perform superbly!
Take 2 Coolers:
If your budget is good, then we prefer to take two coolers if possible. When camping for a long time, it will be helpful to take 2 coolers. So, you can take the frozen foods like meat, fish, veggies, etc., and drinks separately. Then, you will open the cooler of foods when you need the food. Moreover, when you need the drinks for refreshment, you can open the cooler of drinks. If you do this, the cooler will be less in touch with the warm air. As a result, you will enjoy an advanced performance of the cooler.
Cooler Recommendations
Now all the details of how to keep food cold while camping are in your hands. Here, I'm also recommending the three best coolers by which you can keep the food cold while camping! These coolers are very effective for a long journey and 3-4 days trips. Based on customers' reviews, here I have gathered the preparation for using the coolers! Along with this I have added all the pros and cons of these three coolers as well to give you the better idea of the products. Choose the best one which can help you according to your requirements. Buy one and enjoy your camping! Hope you won't regret it! Follow the guidelines properly. If you don't know how to use and prepare, first learn all the things about it. I'm providing a proper guideline. If anything doesn't suit your requirements, you can have options to choose another one.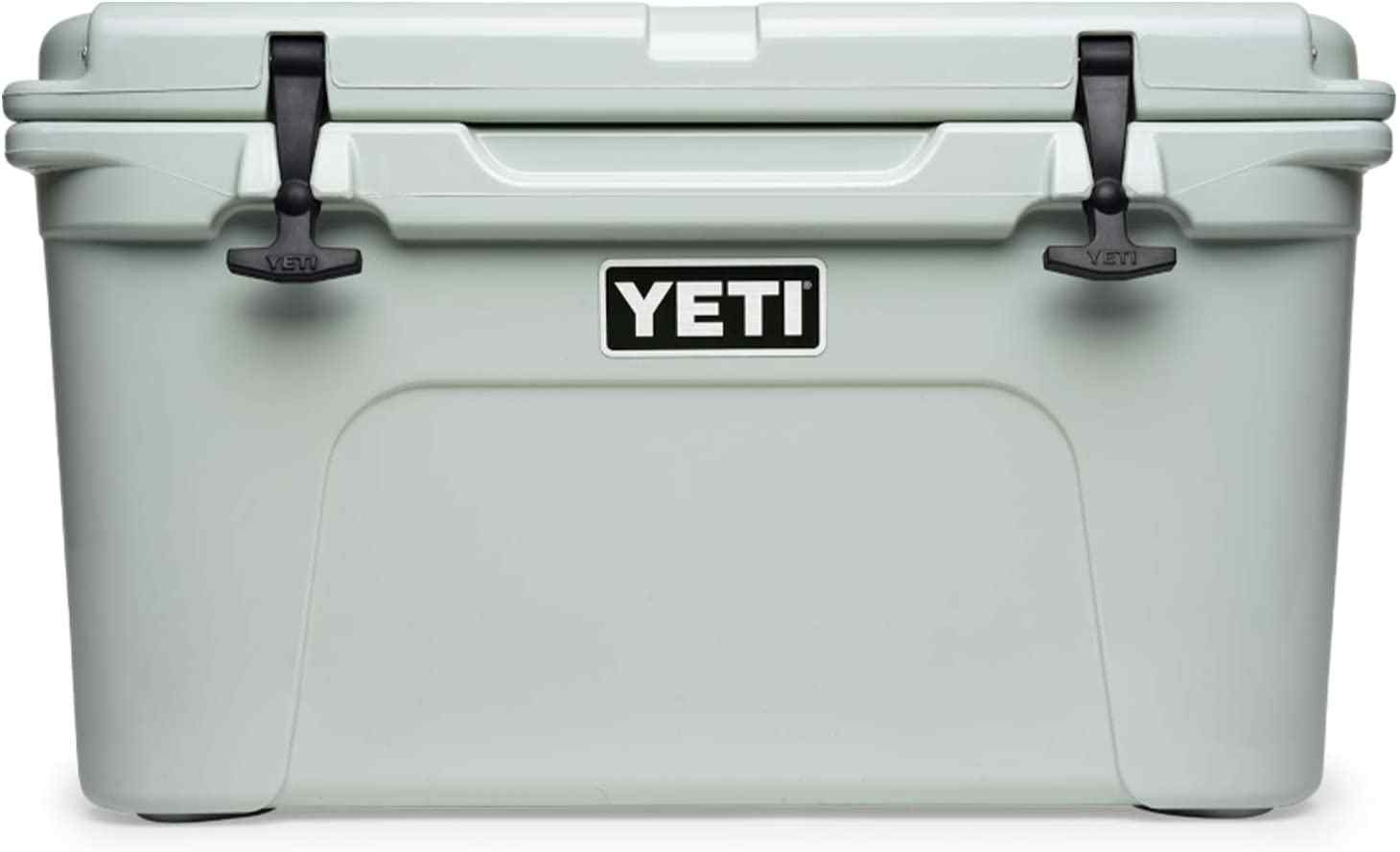 The first solution for keeping food cold during camping is this product. This cooler has the capacity of containing roughly 26 cans and the ice to contents ratios for the cooler should be 2:1. It also contains 3 inches of insulation. Its construction makes the cooler indestructible. The dimensions of the cooler are 25.5 inches long, 16 inches wide, and 15.5 inches high. Moreover this cooler has 9 colors of variations.
The most important thing to note down, this cooler won't make you feel the best if you don't use it properly. Here, we are providing guidelines on how to use the cooler properly.
How To Prepare Your Cooler?
As the lid and the sidewalls are hot, you have to cool the cooler down first. You can easily do it by putting a sacrificial bag of ice inside the cooler. Then let the ice melt inside it. Besides this, you can also put your cooler in an air-conditioned room for a night. This also helps your cooler to cool down. Moreover, if your trip is for 10-12 days, you can put the cooler in the deep freeze overnight. That will be so effective. Before you put the contents in the cooler, you have to cool down the contents first. So, you can refrigerate the contents overnight. Otherwise, your contents will take out all the energy of the ice in the cooler.
[Don't keep your cooler open when you are storing things.]
Buy the ices which are good in quality. Mainly the ices with good shape and dry are the best ones and much cooler than others! Always keep your cooler filled up with ice and content. Eliminate all the dead air space in the cooler.
PROS
The cooler has thick insulation that results in a high degree of ice retention.
It also comes with a basket inside.
You can have around 40 pounds of crushed ice contained in the cooler.
The cooler is sturdy and durable so it will last long.
It keeps your food fresh for around 4-5 days.
The cooler has a drain plug. You can easily drain out the ice water after using it. [Don't open the drain plug till you need to drain the ice water.]
There are feet at the bottom of the cooler. That helps to move it easily.
CONS
The product may seem overpriced.
This cooler is heavy but its performance is fantastic. Firstly know about how to keep food cold while camping with the cooler. Then use it accordingly. Hope you will get a better result. You will have the best performance of this cooler if you follow the rules of preparing it before use.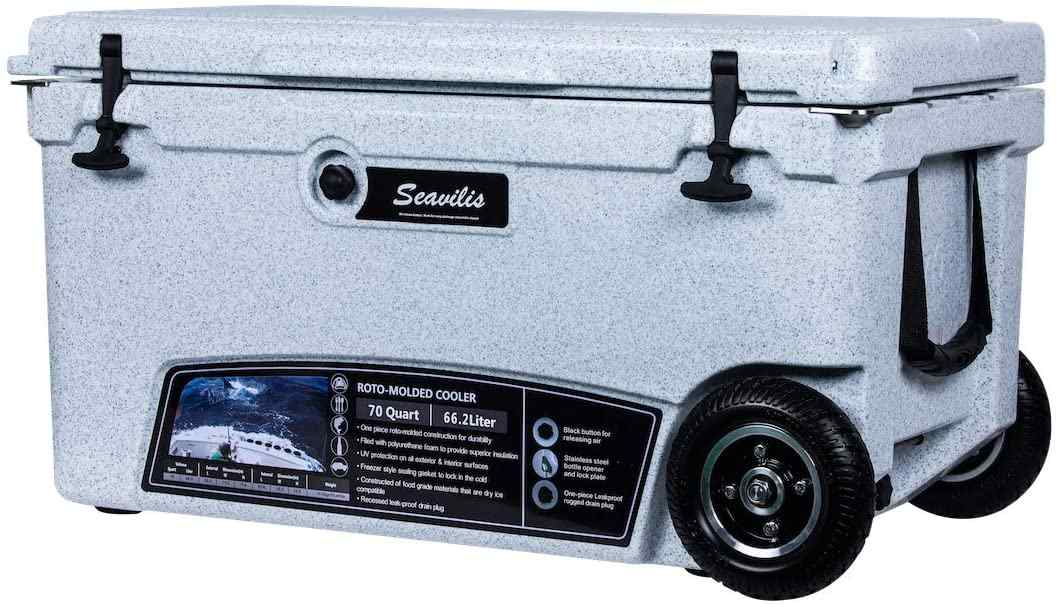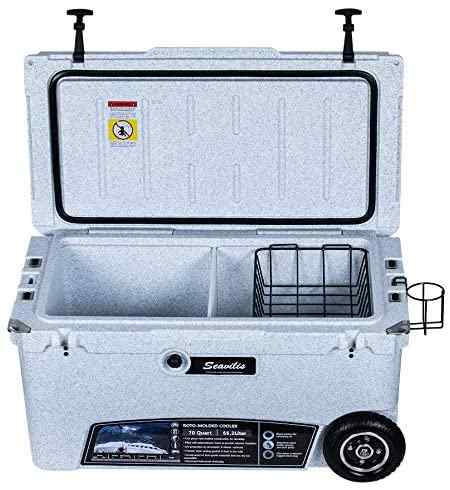 After knowing about how to keep food cold while camping, you must be looking for a perfect cooler. And here is another recommendation of a best cooler that might help you to keep food cold during camping. This cooler comes with a free basket, cup holder, and divider. The cooler follows indestructible rotomolded thermoplastic construction. The materials used in the cooler are certified approved. The cooler has 33.5 inches of width, 19.5 inches of length, and 19 inches of depth. This cooler has the extra advantage of having a 7 inches wheel. The dimensions of the basket are 10 inches wide, 7.75 inches long, and 3.25 inches deep. It has 6 colors of variety. It also contains a no-leak drain plug. Moreover, the weight capacity of the cooler is around 220lbs. You can also preserve raw meats, onions, and any kind of assorted frozen goods.
How To Prepare Your Cooler?
The preparing process is the same as previously mentioned. But just remember to pre-chill the cooler at least a day before you use it. Then make your cooler ready for cooling your food items. Remember to refrigerate your food items also before putting them in the cooler and keep the drain plug closed when you are storing contents. Besides, don't keep any space in the cooler that reduces its performance. So, fill the space with more ices inside the cooler. Then, you will have the best performance of it.
PROS
The cooler has one of the best features of containing a wheel and handle. So, it's easy to carry anywhere you want even if the cooler is very heavy.
Along with camping, you can use it in fishing, boating, party, beach and indoors too. Even at the time of power cut at your home, you can use it for keeping the food cool.
Its ice retention is incredible.
You can have your food fresh for around 6 days.
The cooler is quite durable and sturdy.
You can drain out the remaining ice water after camping through the drainage.
The filling capacity of the cooler is huge.
The cooler has bottle openers on both sides of it.
CONS
The drainage of the cooler is quite condensed. You may feel a problem drip it.
You have to pay for any additional baskets.
The product is a bit overpriced.
The handle of the cooler is short.
We mentioned earlier that the product may seem overpriced. But the performance is top-notch and it is such a user-friendly product. You can get any other cheaper product but you can't have this much great performance. So, but it now and enjoy your camping.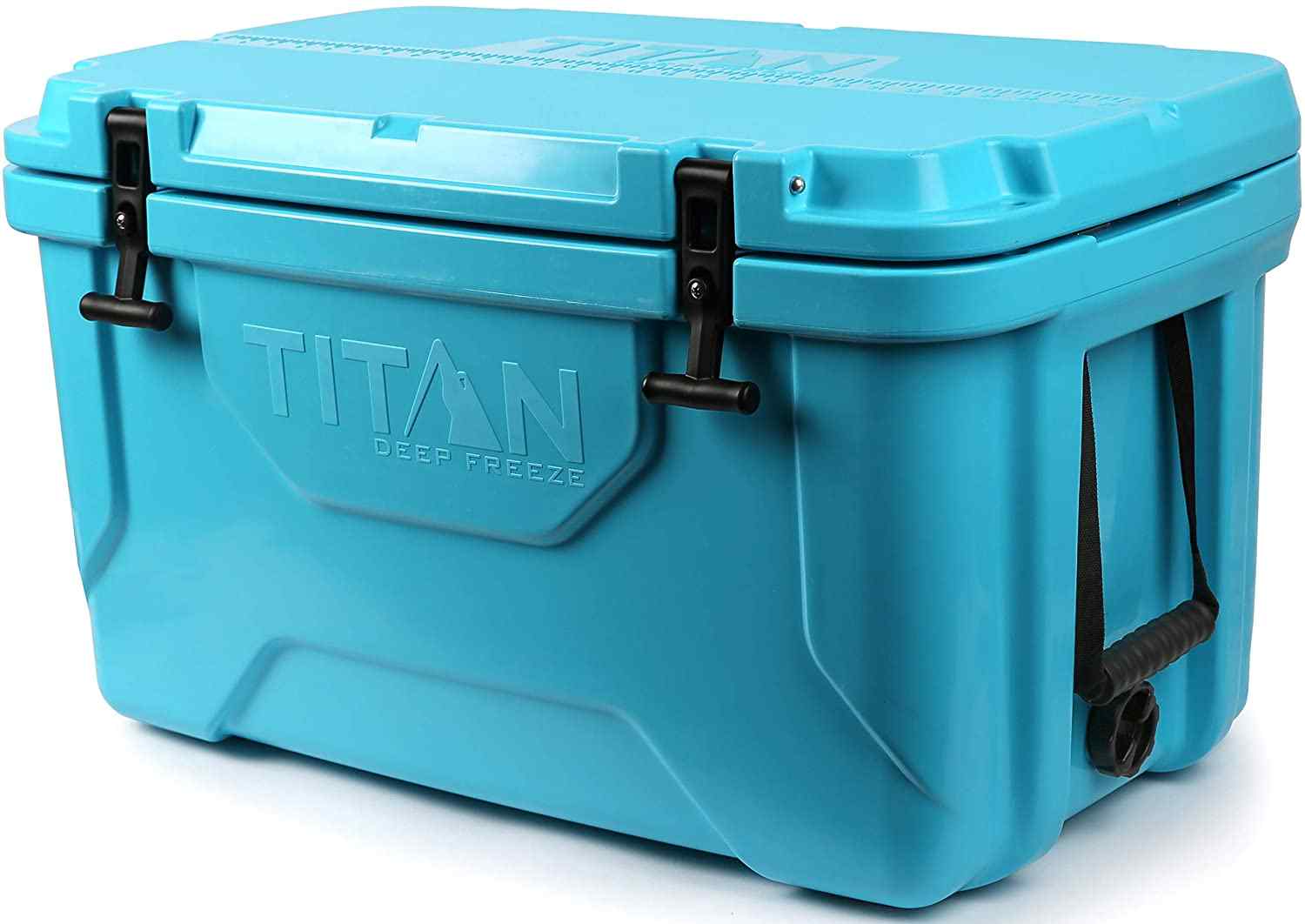 If you want to add another best cooler while camping, then this cooler is a good deal. This cooler has dimensions of 14 inches of depth, 9 inches of height, and 9 inches of width. You can use it for around 4 days for a trip. It also contains a 360-degree gasket and handy wire basket. It has roto-molded construction with a thick layer of polyurethane insulation. There are two colors available and both are really nice.
How To Prepare Your Cooler?
To prepare the cooler, follow the same process as mentioned earlier. But remember all the precautions. For pre-cool, you may use the bottled water to be iced. First, put a layer of iced bottles inside the cooler. Then, put in the crushed ice. After that, you can put the cans and the frozen foods. But don't keep any space inside the cooler. Fill the spaces with ice cubes or frozen foods. The gaps reduce the performance of the cooler. It will melt the ice inside. Moreover, don't open the cooler too frequently. It also reduces its performance. Besides, keep the cooler in the shade and also lay a blanket on top of it too keep it safe from the heat.
For this cooler, we do not recommend using dry ices if you don't know how to handle dry ices. Because it is a bit risky.
PROS
The cooler has a freezer-grade gasket. This provides a tight seal to cool down the inside contents.
There are two built-in locking mounts.
The main advantage of the cooler is having a rotating stainless-steel handle. You can carry it so comfortably.
It contains an oversized drain. So, you can drain out the ice water easily and won't feel condensed. There is no chance of clogging.
There is an integrated fish ruler.
Its ice retention performance is so good that you don't need to worry about ice melting or not for 4 days. You can have your contents cold for up to 8 days, not at freezing temperature.
The cooler is also easy to clean.
It also helps in inhibiting odor and stain by the bacteria as it has antibacterial protection.
The most exciting part is, it has 5 years of warranty.
You can keep your softer items in the handy water baskets.
It is sturdy and its construction is so good.
This product lasts longer.
CONS
It does not come with any bottle opener.
This cooler is so useful. Don't let your camping fade out for not having a good cooler. Just check it when received. If you get any fault, you may get a replaced product. This product won't disappoint you while camping. Now you know how to keep food cold while camping. You also have the option to choose the best cooler for your next camping. So, why making delay.
How To Keep Food Cold While Camping Without Using Cooler: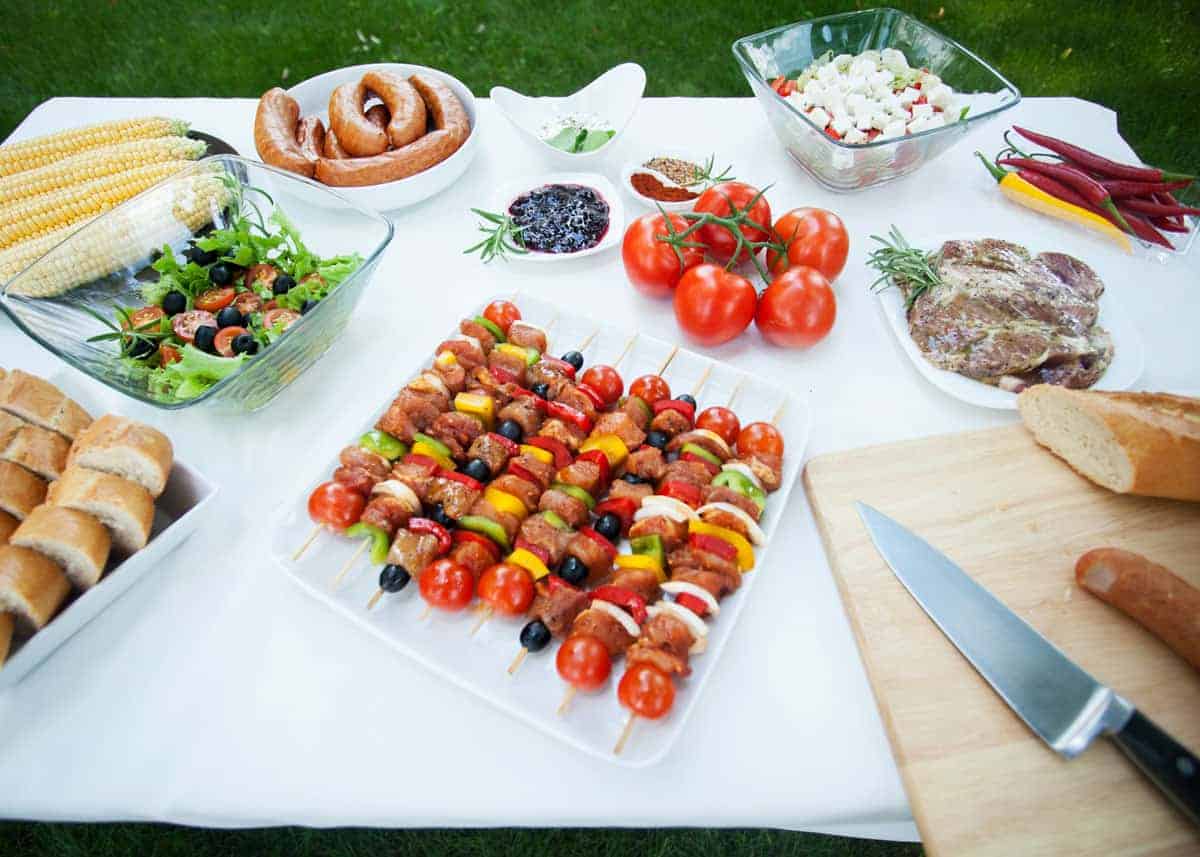 You have three suggestions for coolers. The best way to cool down your food while camping is to use the coolers. But still, if you want to preserve your food without coolers, then we are providing some suggestions according to them.
1. Thermal bags are one of the good options. You can put ice cubes inside the bag. Then put the food inside it. But it can preserve food for around 2-3 hours.
2. You can also use an insulated backpack. It is kind of a mini version of a cooler as it has many advantages. Firstly, put a cold source like ice cubes, ice bags, etc. inside the bag. Then, put the frozen food inside it. For getting extra insulation, you can cover the food with aluminum foils.
3. If you are interested in car camping, then bring a car fridge! You can also avoid using ice then. It works with the car battery. This is also a good option.
Here I'm suggesting the best product you can use instead of a cooler while camping.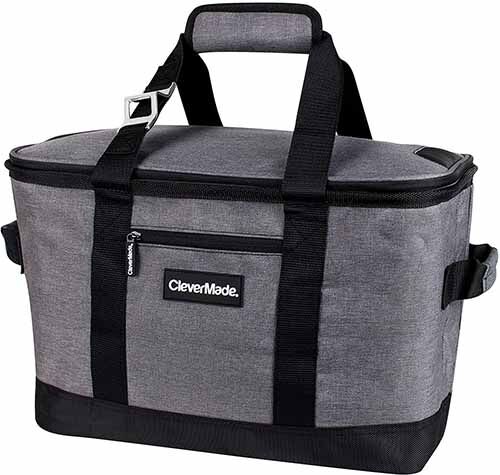 If you don't want to carry a cooler, then this thermal bag you can try for camping. Its capacity is also quite good and it is around 8 gallons. You can carry up to 50 cans. The dimensions of the bag are 18.25″ Length, 12.25″ Width and 11.5″ Height.
PROS
The bag is easy to handle and so comfortable.
It has 3 layers of insulation. So, your food items will be cold for up to 7 hours.
You can collapse it down when your bag is empty.
There is an extra zipper at the front of the bag. So, you can keep any kind of small things like keys, cards, wallet, etc.
It has 3 months of warranty.
This bag is leakproof! So, no worries about ice melting.
CONS
Based on customer reviews, some people faced the problem of a leak at the bottom of the bag. So, check the product when you get it.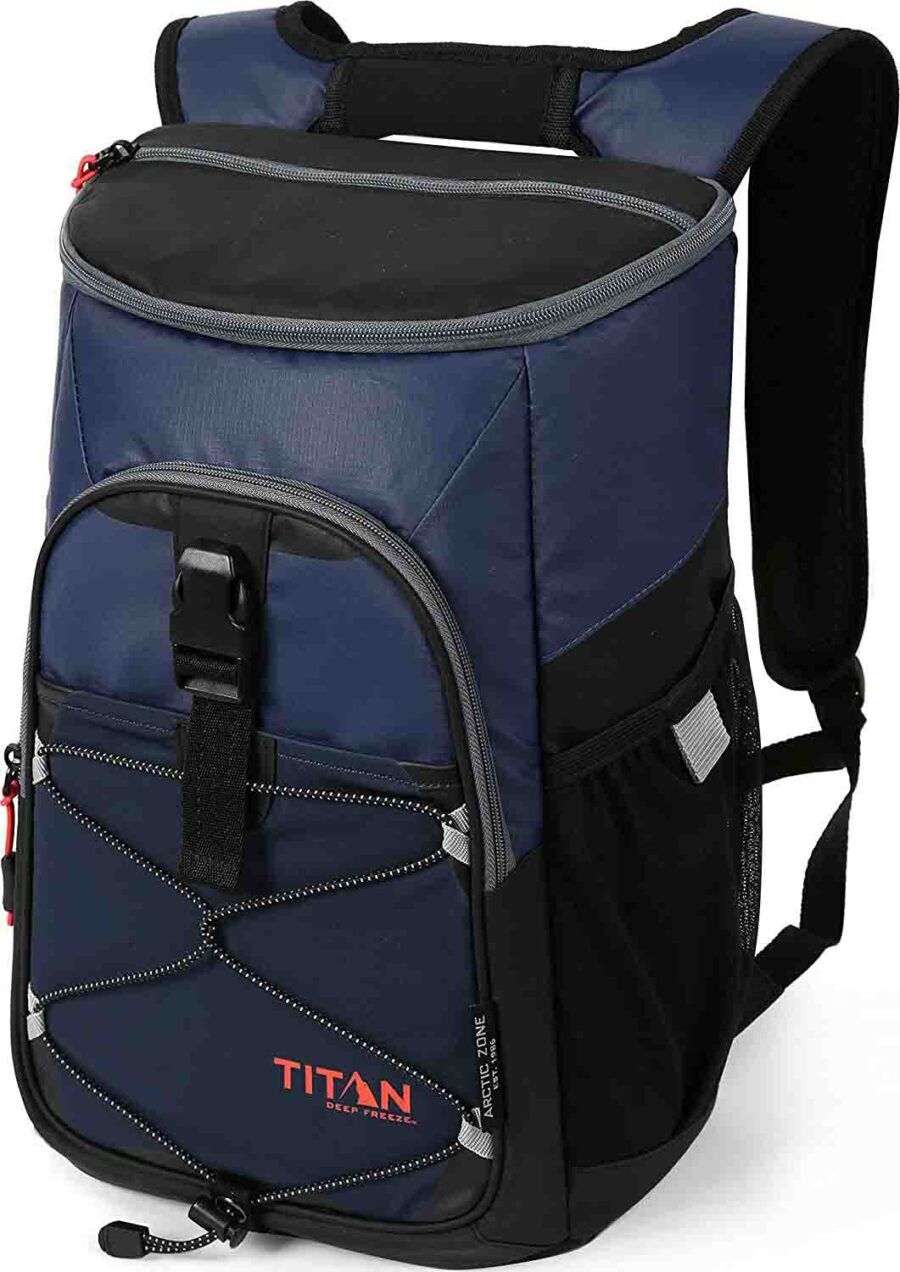 This insulated backpack is another helpful product for your camping. Its dimensions are 10.5 inches length, 7.5 inches width and 16.5 inches height. The chamber of the backpack is around 5.5 inches. It has high insulation performance. Moreover, it has deep freeze insulation.
PROS
The bag has adjustable backpack straps. So, it is easy to carry.
This is leakproof and water & stain resistant.
You can clean the bag easily.
There are 3 extra zippers which are not leakproof. But you can carry some of your things in the zippers.
You can carry up to 24 cans in this bag.
This bag lasts for a long time.
CONS
The lining inside the backpack is loose and may not be properly tailored.
If you are taking a car while camping, a car fridge is the best option for you to keep the food cold. This care freeze has large storage space. Moreover, its cooling range is around -20℃ – 10 ℃/-4 ℉ – 50 ℉. The dimensions of the large zone are 12.8×10.5×17 inches and the small zone are 6.3×10.5×10.7 inches. Besides, the battery and voltage have 3 settable levels.
PROS
This fridge has fast cooling along with an energy saving formula.
3 settable levels prevent its battery from running out.
This product has high storage quality and is easily portable.
You can use it at home, vehicles, trucks, camping, etc.
It is a budget friendly product.
The fridge lasts around 10 hours of power failure.
You can also regulate the temperature and it also comes with a USB socket for charging.
Moreover, it also helps to protect the vehicles.
CONS
So, you can keep the food cold while camping without a cooler by choosing one of these options. But these ways do not last long. You can follow these techniques when you are going on a small trip! These will help you for up to a 3-4 hours journey! If you don't get waterproof thermal bags, your bags will be wet after melting the ice. We always recommend using a cooler for safety purposes! This is the way of how to keep food cold while camping. Moreover, there should be some alternatives while camping. You can have some foods which are not perishable! So, take some non-perishable foods with you for safety!
Finally,
Camping is like an adventure. Everybody should have experience of camping. Firstly, organize camping with your buddies! Then, you have to fix every damn thing you need. If you are planning for camping, you must arrange a cooler or something like that. Even if you have no idea about it, you'll have superb camping after following the previously mentioned steps. If you're going on a long trip for 5-6 days, choose the best cooler according to our recommendations. Find the best one whichever goes with your requirements. Don't spoil the fun! Now, you have all the suggestions and way out of how to keep food cold while camping at your fingertips. It's all over to you! You are the ruler of your own realm! So, choose the best product and rock your vacation!