Do you like hiking and want to experience a hiking date with your special one but you are confused about what to wear on a hiking date. And I am sure you also want to make your day more special than the normal day. In fact everyone wants. So for the adventurous couple who wants to make their dating time more special by wearing perfect outfits, I am here to give you some ideas about hiking outfits.
The winter season has ended already. Now it's time for the summer season. And the weather is slowly starting to get warmer day by day. But you can still enjoy a lot with your partner during a hiking date. Additionally, you can pick your outfit according to the weather demand.
DO NOT miss out on this article if you really want to have interesting ideas and information of what to wear on a hiking date. So, let's get some better ideas!
Hiking Outfit Ideas for Every Season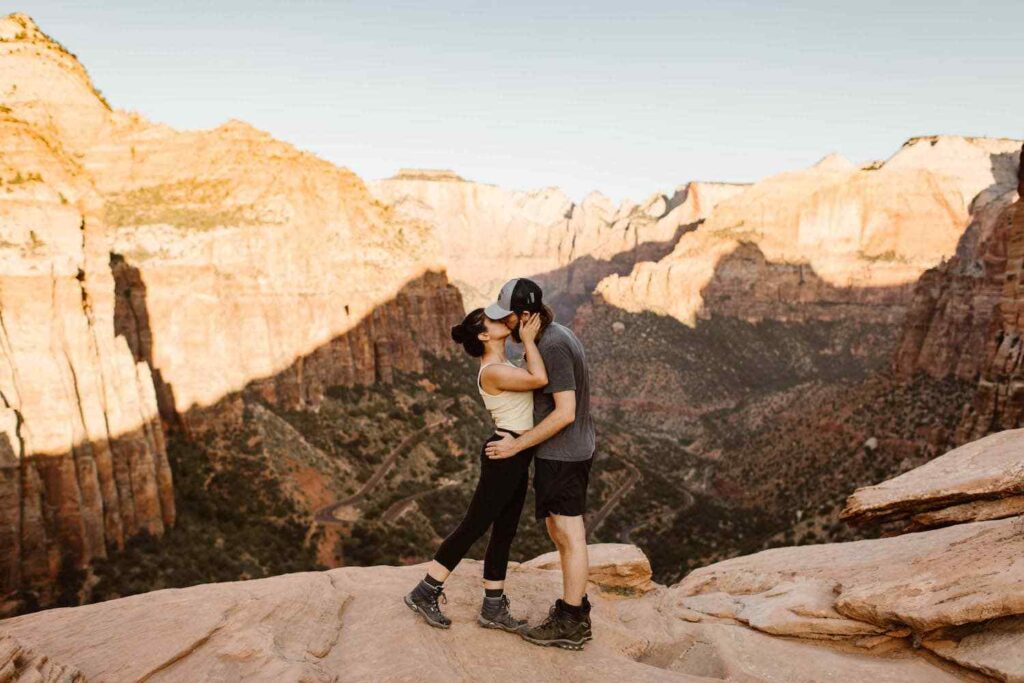 Dating is undoubtedly the best idea for couples to get to know each other. You can make your dating time more enjoyable when you decide to make it into a hiking date. Because walking in nature will definitely bring peace to your monotonous life. Moreover, a hiking date can be more adventurous and romantic as well. But you should choose the perfect outfit for both of you for the date.
So, if you have a plan for getting different hiking outfits based on different seasons and weather demands then I think this article will be going to provide you with the best ideas ever. Because here I am trying to mention different seasons' outfit ideas. Initially, I am starting from summer and will be giving more ideas of what to wear on a hiking date step by step in every season.
Hiking Date Outfit Ideas for Summer Season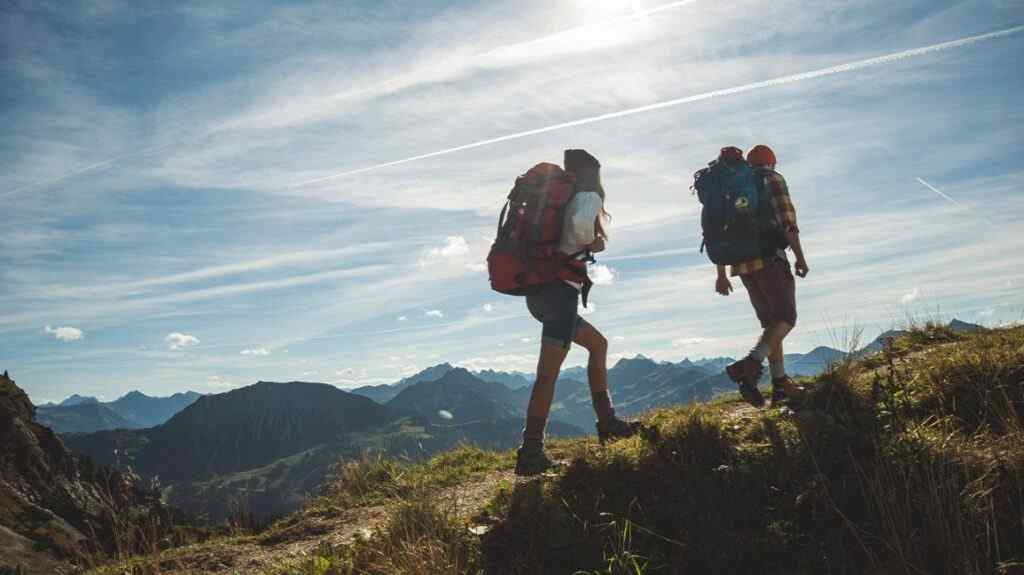 Summer is a bit warmer and sunnier. So, while selecting hiking date outfits you may face some issues. And it is quite normal. But you need to make it easy. But deciding what to wear on a hiking date you must choose such outfits during a hiking date which will also ensure your comfort zone along with the style.
During the summer season, you can opt for outfits that are quite lightweight yet high quality. Because, these kinds of lightweight outfits will easily help to absorb your sweat. Similarly, you can add lighter-colored clothes to your preferred list. Because in summer, darker colored clothes absorb more heat. On the other hand, lighter color clothing always reflects some of the heat. It will give you peace and cool you off. So, you guys try to select lighter colors clothes relatively as a summer hiking outfit.
Summer Outfits Ideas for Boys
For summer hiking dates try to choose quick-dry and also wicking hiking shirts or t-shirts which are way eligible for a summer hiking date. And also those t-shirts or shirts should be cotton free. These features are most important and need to have as your hiking outfits. Or you can pick a lightweight hoodie on your date. It will add extra politeness to your dating outfit. For pants, choose sweat-wicking pants with gray or black color for warmer days.
I am suggesting you wear a baseball cap. Because in nature there will be sun hotness. Therefore, a baseball cap will protect your face from excessive heat by covering the face.
Hence, choose sneakers that are relatively breathable along with thin wool socks. Now I think these ideas are enough for you, boys. Hence, you will not need to think about what to wear in your hiking date.
Summer Outfits Ideas for Girls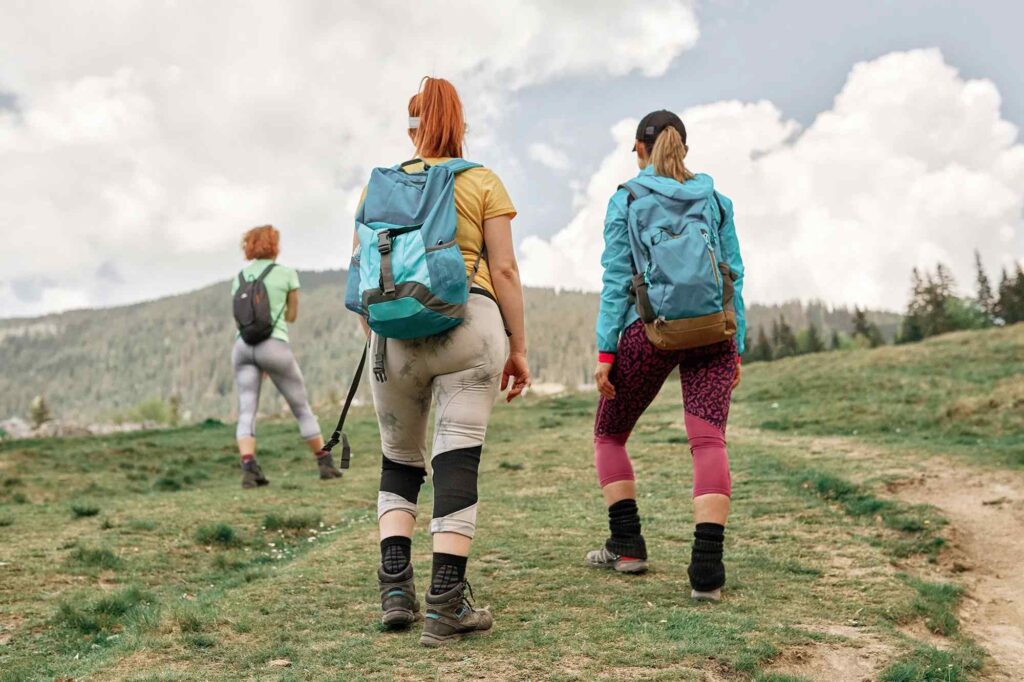 Girls I can understand that sometimes you get confused about what to wear on a date. And when its about hiking it is more difficult to choose. So that's why I am making a different section for you. Before starting, I am telling you one thing and that is- before deciding on what to wear on a hiking date choose your outfit wisely based on the ambience and location as well.
You can choose hiking shorts or leggings as your hiking date outfit. But if you want to hike for a long time then it is a must to wear pants that are relatively durable yet lightweight as well. Do not forget to wear breathable sneakers.
Hence, you can finish your hiking outfit with a baseball cap. It will protect your hair and face from sunburn. Okay, let me give you a hairstyle idea with a baseball cap. You can style your hair with a ponytail look as this will be your dating. So this one will give you a cute look during your date. Or if you have long hair then you can braid your hair. These hairstyles will be better on warmer hiking days!
Outfit Ideas For Cooler Temperature!!!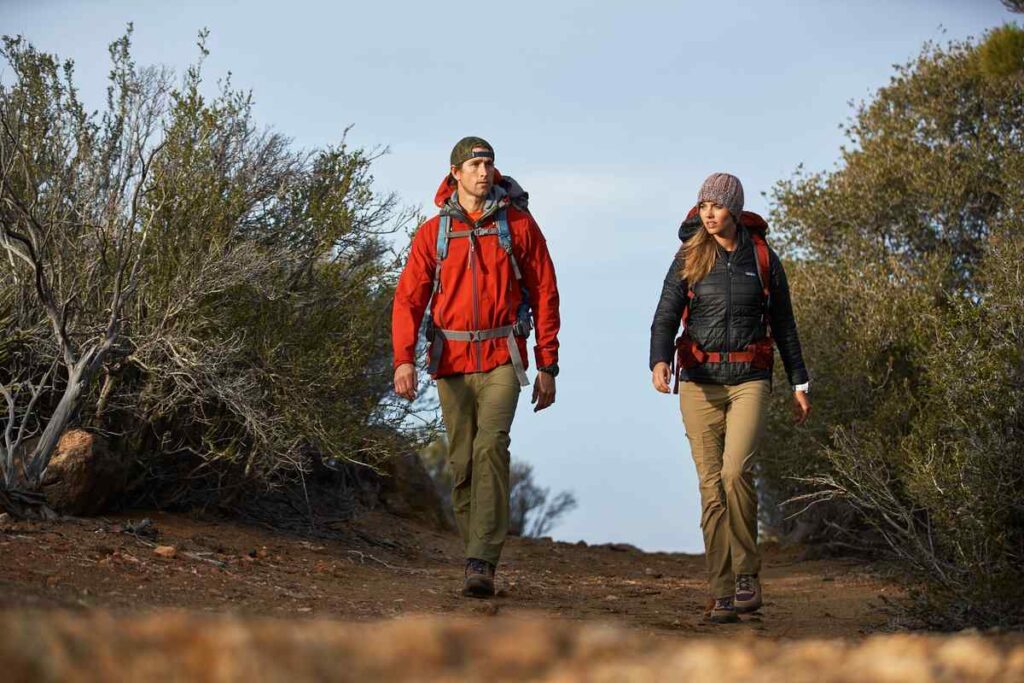 Now it's time for getting some ideas of outfits for the hiking date during the winter season. Winter is fun, you know! So if you think of arranging a hiking date with your special one then I might say, you are a cool person! You can make your winter hiking date more enjoyable if you take proper preparation for outfits. However, outfits must perform a significant role in winter during a hiking date. Because as you are planning for a date, your outfits should look like this.
Try to avoid cotton material during winter hiking. Because if cotton gets wet once, then it will take a long time to dry. It will cause trouble, for sure. On the other hand, synthetics and merino wool are considered relatively the best materials in winter. So, if you opt for these two types of material I am sure you will not regret later.
Hey Boys Attention Here!
If you are planning for a hiking date in the coolest temperature, then go for long sleeves or base layers which are relatively heavy. And pick the Smart wool Merino 250 long sleeve shirt. This Smart wool Merino 250 long sleeve shirt is considered one of the best long sleeve base layers on the market. And I am pretty sure those who bought this one, will also agree with my suggestion.
Besides, you boys should select Men's heavyweight stretch shirts which are featured with a half zip. As a consequence, you can adjust as long as you want. These types of shirts are designed with such fabric material which is able to wick sweat away from your body as well as your skin. And the interesting thing is that you will not need to worry about your comfort. Because this type of men's hiking clothes is not bulky at all.
If you do not have any problem with your budget, then go for merino wool material. This is relatively budget-friendly.
Outfit Suggestions For girls
Women's Silver Ridge Lite Long Sleeves play a significant role as winter hiking outfits. This is basically a long sleeve and will give you a better look. Moreover, this one will ensure your comfort. Because it will keep you warm while hiking during autumn. Hence, this long sleeve will wick your sweat and let you dry. Besides, this women's shirt is designed with UPF 40 Sun.
Additionally, you girls can select "Women's Long Sleeve Heavyweight Stretch Top. Your body heat will be preserved if you wear this. This one is worth wearing in winter and is also the best option for winter hiking date outfits. Or you can bring up a hoodie that is very lightweight or mid-layer. Besides, do not forget to wear and carry sunscreen. Because in winter, your skin can dry up naturally. And most importantly, wear a hat so that you can get saved from excessive cold.
Additional Suggestions for Both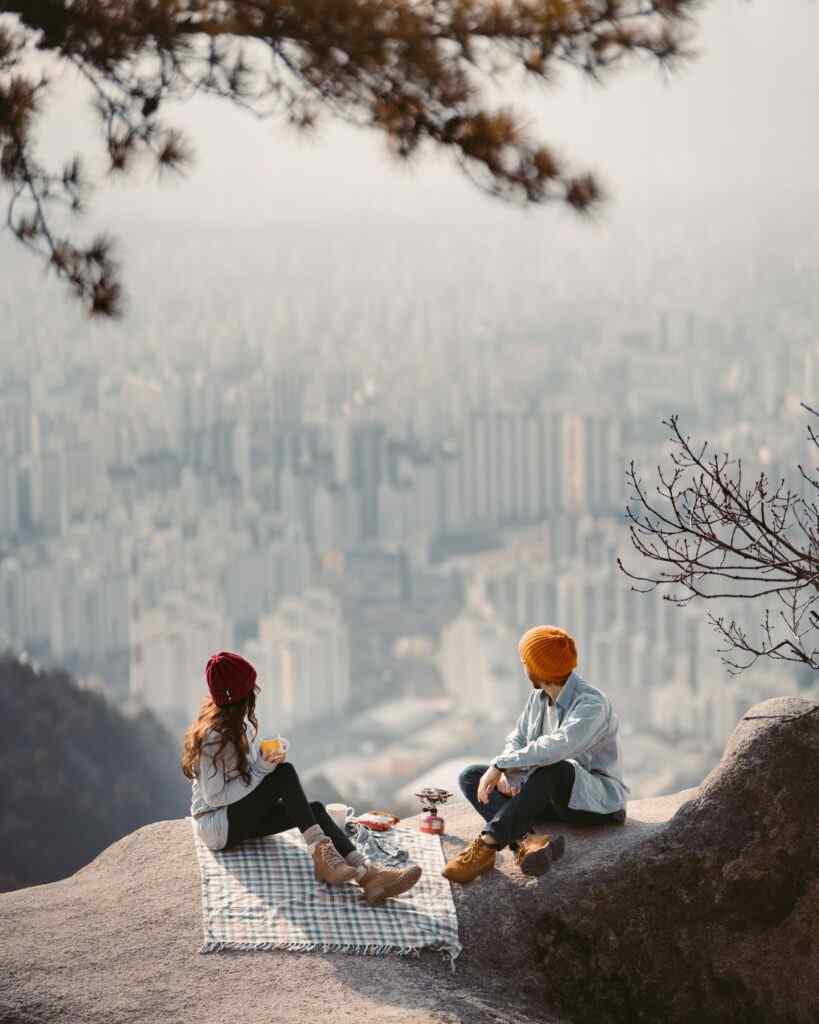 Here I am adding more suggestions regarding your winter hiking outfits. You can pick Hooded Down Jacket if you have a plan for winter hikes. I will personally recommend this because in winter this will give you more warmth. Or you can choose Stoic Insulated Jacket. The specialty of this one is it will match your budget.
Words for Rainy Season: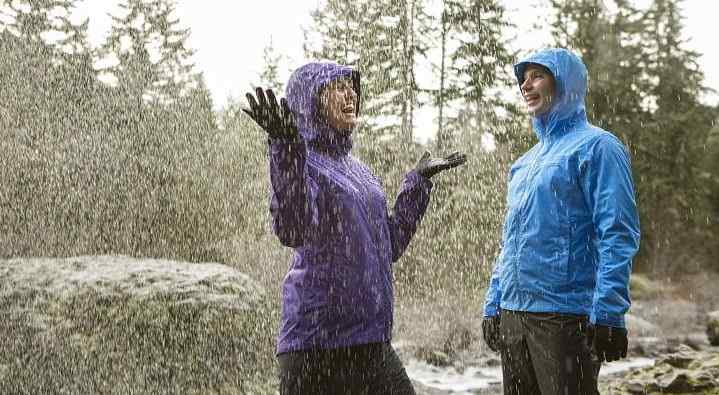 Before going on a hiking date with your partner, check the weather forecasting. This rainy season is basically an unpredictable season. Because you can face unexpected rain at any time. So you need to be prepared with your partner for this. Hence, it is quite normal if you are confused about what to wear on a date during a rainy time. But when it is about hiking dates, I am sure you want to be looked special in any season even in the rainy season. Confusing right? So to overcome the confusion, have a glimpse below for shining in the rain!
What To Wear In A Hiking Date During Rainy Season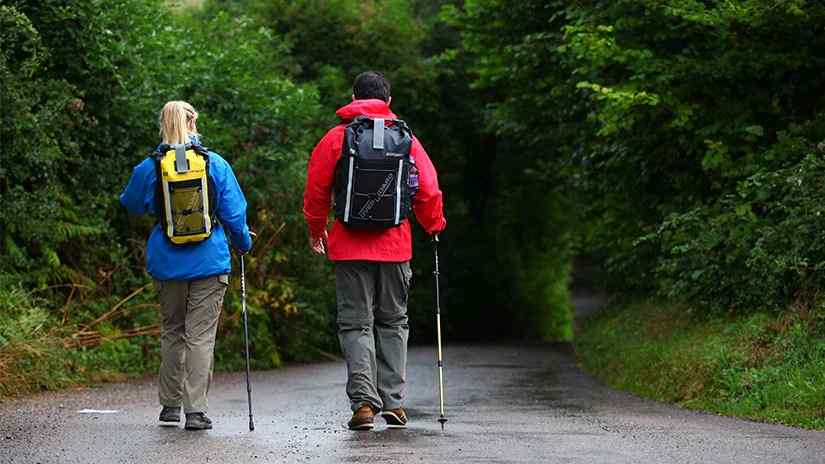 For rainy days hiking times, I am suggesting some initial preparation for selecting outfits. In this portion, I am not going to divide the hiking outfit ideas for males and females. I am here trying to put all the information together about what to wear on a hiking date for both.
Before deciding careful about some factors:
You should select the fabrics and material wisely as it is about a rainy hiking date. It is an initial stage of your preparation.
Dress up appropriately.
You should ensure that you are wearing such makeup that is waterproof.
Choose bright color outfits for you both.
Girls you can add a printed scarf around your neck. It will flaunt your personality.
Layering up your outfits. You may face unexpected rain at any time during this season. Yet, it is the perfect time for you to layer up your outfits properly.
It is wise to bring a waterproof tote bag which is relatively big. Because you can protect your stuff along with your sensitive electronics devices by using this tote bag.
Do not forget to bring a folded umbrella or a breathable raincoat or rain jacket with you.
Now it is time for having some coolest outfit ideas!
You can pick a good lightweight trench coat along with a classic and gorgeous color. Try to buy such a type of trench coat which is featured with a hood.
Choose rubber boots or wellingtons on your feet with your outfit. This type of footwear will definitely provide you with a stylish look. Moreover, these will brighten up your dating time.
I will suggest sporty booties and classic ankle boots, especially for women. Or you can give a try on sneakers that are also slip-resistant. These types of footwear will keep your feet warm, dry and super comfortable on a hiking date during the rainy season.
You should not let your hair come out in your face. Try to pull all your hair off. Because it is a rainy season. So when the rain comes, then your hair will get down in your face. As a result, you may look stringy. As a solution, you can choose a ponytail style. In date, it will add extra beauty as it is congruous with any outfit. This style is appropriate for both middle and long hair.
If you have long hair, then you can bun up your hair. Or, you can braid up your long hair tightly.
I think I can obviate your confusion about rainy hiking outfits. So be brightening up on your date and make your hiking date memorable!!!
Fall Hiking Outfit Ideas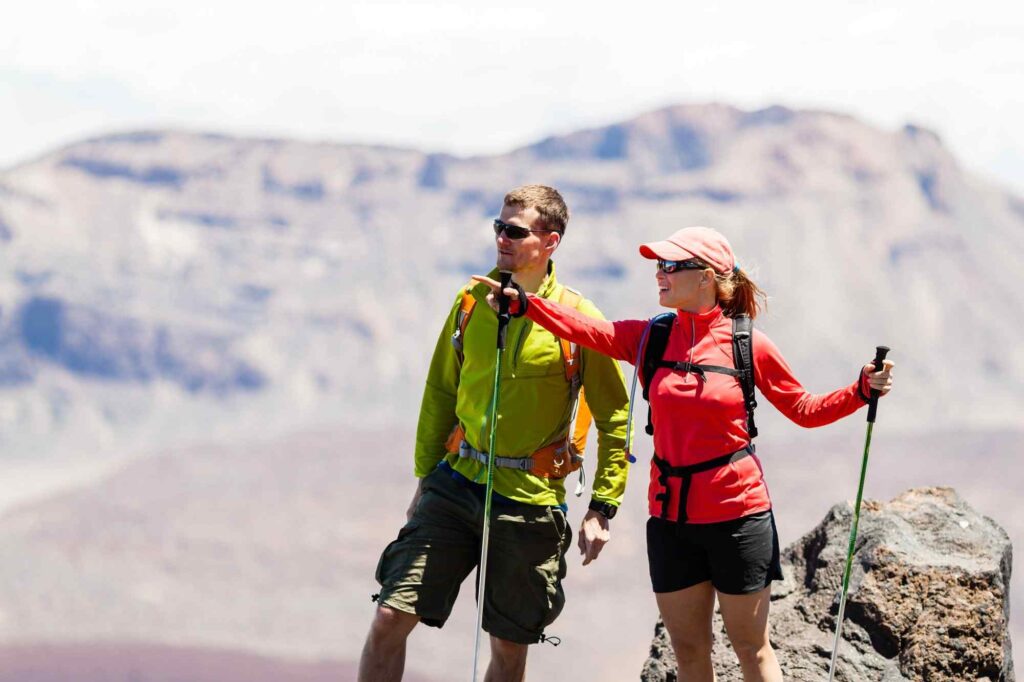 When it is about hiking outfit ideas in the fall, then I am sure you both men and women will find it easier to choose in this weather. But still I have added some suggestions for you! Check out below!
You can go for fall hiking footwear and wool socks. But initially, you must ensure that you are picking the best quality. I am recommending these because they can prevent blisters.
Stay dry along with a lightweight rain jacket. Because if you are planning for a hiking date during the fall season in the Pacific Northwest then always get prepared. Because in the Pacific Northwest you may get sudden rain.
Guys, this is a must to wear hiking boots. The hiking boots are equally significant if there's snow and ice in your preferred destination.
I personally suggest a ¼ zip 250 Merion Wool Base Layer. This one will give you extra comfort if you feel cold in late fall or around sunset.
For women I would like to suggest Sweater Zip Fleece Pullover. This one is perfect for a fall hiking date.
Clothing Mistakes That You Should Be Aware Of!!!
This portion is all about mistakes about outfits that you guys should avoid during your hiking date. In fact, this part is about "Don'ts" which I am mentioning in some points.
Avoid wearing silk material and thin fabrics clothes.
Try to avoid denim. You will face some health issues if your denim pants and jackets somehow get wet.
Say NO to flimsy shoes and no-show socks.
Try to avoid 100% cotton material. Because in the Spring and Fall season, a cotton t-shirt can be good as you will not sweat a lot but remember cotton is not always a good option. Yet, polyester dries faster compared to the other materials and will not absorb. So if you want to avoid the sweat smell after hiking/date, you must choose moisture-wicking clothing.
Overall, you guys try to avoid such outfits which are too tight. Rather try to look for comfortable clothing.
On the other hand, you should also avoid such clothes which are too loose. These types of loose clothes are not eligible for a date.
If you pick shirts or any t-shirts then must avoid those that are designed with brand icons, quotes and slogans. Because this type of design will not go for an amazing date.
While deciding what to wear on a hiking date then say a big NO to thigh-high boots This one may look beautiful but not worth wearing on a hiking date.
Last Words For You!!!
Hiking is one of the most adventurous and recreational activities ever. I think most people love hiking. Those who love to explore new things within nature do not want to miss out on the chance to go hiking. Therefore, I am pretty sure if you get the chance then you will also go for a hiking date with your partner. And you know what? It is the best option by going far away from a busy and air polluted city. Besides, you must keep the ideas of hiking date outfits in your mind. I know that you fall into trouble by thinking about what to wear on a hiking date. Therefore, having perfect outfits will give you extra confidence.
What do you need to do right now? Just choose wisely your desired outfits according to the weather demand and rock your date!!!