You feel amazing while hiking, right? But have you ever experienced hiking in the rain? It is undoubtedly amazing! Those who already have experienced it will surely agree with me without thinking for a moment. But those who still could not experience yet just go for it. Hiking in the rain will definitely give you a goose bump that you cannot forget throughout your whole life.
Yes, today I am here to talk with you about a very interesting topic and that is about hiking during rainy times! If you do not have any issues with rain and if you like it, you must try it at least once in life. But there needs to be proper preparation! Hence, proper guidelines will help you avoid any difficulties and will add more happiness to your adventure.
Things You Should Know!
There are some tips that you need to follow for an amazing hiking experience in the rain. Here I will add initially what gears you should carry while hiking in the rain. And secondly, clothing tips will come. Hence having proper clothing in the rainy season is significant that you should keep on your "To Do" list. Because proper clothing can save you from cold yet improper clothing can cause you to catch various cold diseases. So you should be meticulous while choosing clothes for any kind of traveling and hiking as well. Furthermore, you should be careful about your electronics as it is a rainy time if you carry them.
Top Tips!
At this point, I will add some crucial points that will help you to be in very good shape during rain. There are so many tips that you should follow for protecting yourself and your gears from rain. But here I added some points that should have appeared first. Such as:
Firstly, do not forget to take a jacket which is suitable for protecting you from the rain. In that case, good quality should get preference.
Try to avoid cotton. Rather select merino wool or synthetics.
Take a cover for your backpack to save your stuff.
You must carry a first-aid box with essential medicines.
If you have "Hypothermia" then you need to take preparation for this. Additionally, you must know what you will do at the time of lightning and thunderstorm.
Gears That You Should Carry For Hiking In The Rain
Backpack: As it is about hiking then you can choose from any place. So carrying your gear you need to take a backpack. But make sure that your one is waterproof. So buy such a backpack that is able to protect the stuff that you are carrying inside from rain. But if you already have a backpack that is not waterproof then do not worry about it at all. There has a solution for this. If that is the case, you might carry a rain cover. That rain cover will definitely keep your backpack dry and will save your other gears from getting wasted due to the water. It will be a solid solution.
Pack Some Snacks: Carry some friendly and dry foods that are lightweight also. Because while hiking in the rain you may get hungry. You can choose some dry foods. In my opinion, I should add a section describing the foods that you can take in your hiking. Hence, I am going to describe the entire food below.
Bring Warm Beverage: Do Not forget to take warm beverages. Carry some beverage that is warm and will stay warm for a long time. It is very essential. Therefore, if you have a plan for staying in your destination for more than 2 days then take adequate beverages so that you cannot feel the lack of water.
Clothing and Footwear Tips for Raining Time
Ok now start from clothing tips and footwear tips together!!! I added this salient point in the second though.
Perfect clothing tips can make your journey and traveling more enjoyable. So if you are planning to go hiking during the rainy season, then you should not avoid this crucial point. I am adding the clothing tips as an initial point because these are the first and foremost things to follow. Yes! It is a must!
Before you go out for hiking in the rain you need to be very careful about your clothing.
Clothing Tips!
If you are planning for a hike in the rain then you must keep in mind that successful hiking commences with a perfect and well-prepared clothing plan including the best equipment. And it is true that you need to prepare this for your journey. I already mentioned above that you should avoid such clothes that are made of cotton. It is the first salient point here! Or, you can take it as a warning. Secondly, as this is about rainy time and you have decided to hike in the rain, you know that a raincoat or rainwear is compulsory. ed to be fussy while choosing clothes for hiking. Just try to maintain all the hacks that I have described above. And get a happy hiking time!
Significant Hiking Clothes and Gears:
Raincoat or Rain Jacket: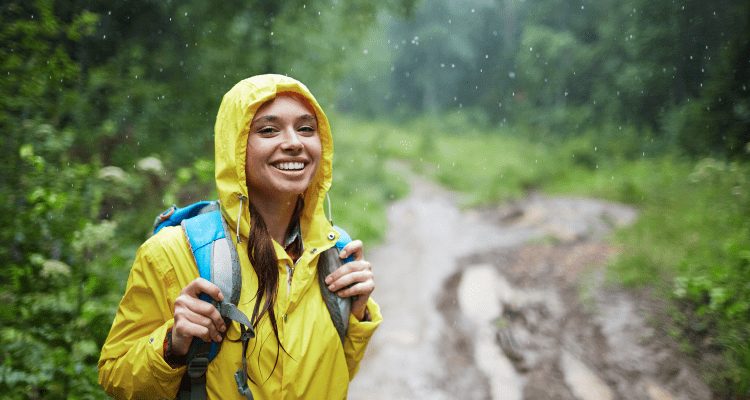 The first and foremost essential thing is to take a raincoat or rain jacket while hiking in the rain. Because you will never predict when you will be facing rain. The season is totally unexpected!!! Moreover, there are some essential features that should be included in your hooded waterproof rain jacket. While buying a jacket there are some features that you must find out. Describing below ~
When it is about clothing, material and fabrics come first. You need to make sure that the jacket that you are buying for hiking in the rain is composed of rain shedding performance nylon or polyester or synthetics. Or you can opt for wool layers as an alternative. There are some important features of these materials. For instance, these materials will dry quickly, insulating as well as moisture-wicking. But in that case, wool does not dry instantly. Other features are okay. Therefore, just keep these features in your mind while choosing. Additionally, I already said that cotton is not suitable for hiking in the rain. Because cotton is the worst fabric for the wet season.
Second thing is – durability. You must check whether the jacket that you are buying is durable or not. Therefore, choose a jacket that is durable enough and lightweight as well.
Make sure that you are feeling comfortable and warm enough and can move freely even if you are wearing several layers underneath. It is a key point.
While buying a jacket choose one that has a hood. It will protect your head and face from the rain.
That rain jacket should be breathable and must be roomy enough. This will add extra comfort.
Here I have suggested some rain jackets for Women and Men. Let's check out the list…..
1.     MARMOT Waterproof Rain Jacket ~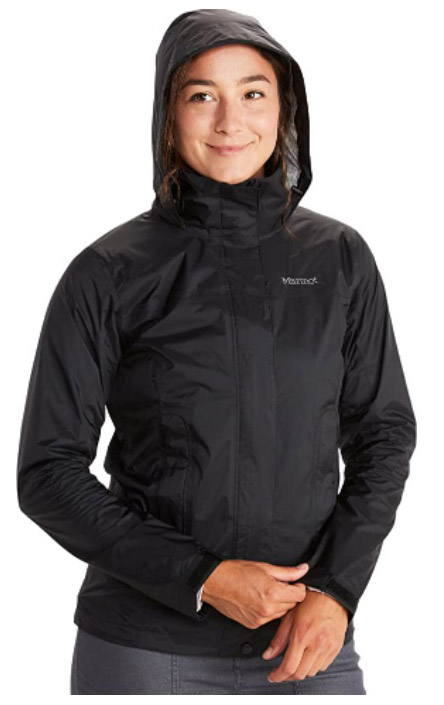 This MARMOT female rain jacket offers you a stylish design including nylon fabric that is recyclable also. It features with weather protection and strong zipper closure. This rain jacket is very sturdy and you can pack easily and also it will keep you warm even in the stormy weather. However, you can feel comfortable in any kind of weather. Moreover, you can avoid soaking while you are hiking by wearing this one.
For Women
2. Arctix River Rain Jacket ~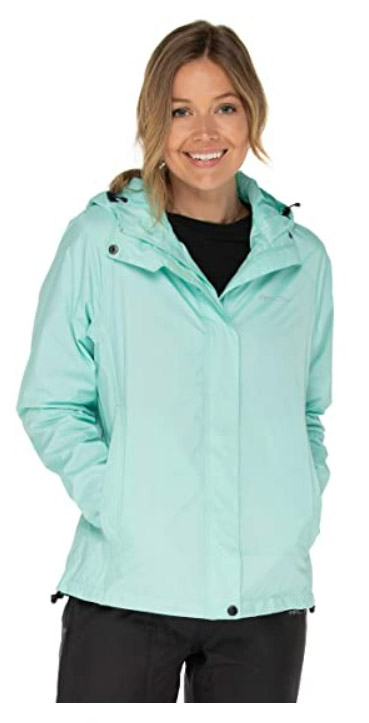 Another stylish rain jacket for you! It holds numerous convenient characteristics that will blow your mind after knowing. This one offers a mesh liner for your comfort and will give you breathability in your long hiking journey. However, it offers some zipper pockets that will protect your gears from getting wet. Take this easy-packing waterproof and lightweight rain jacket with you wherever you want to go.
3. FROGG TOGGS Pro Action Rain Jacket ~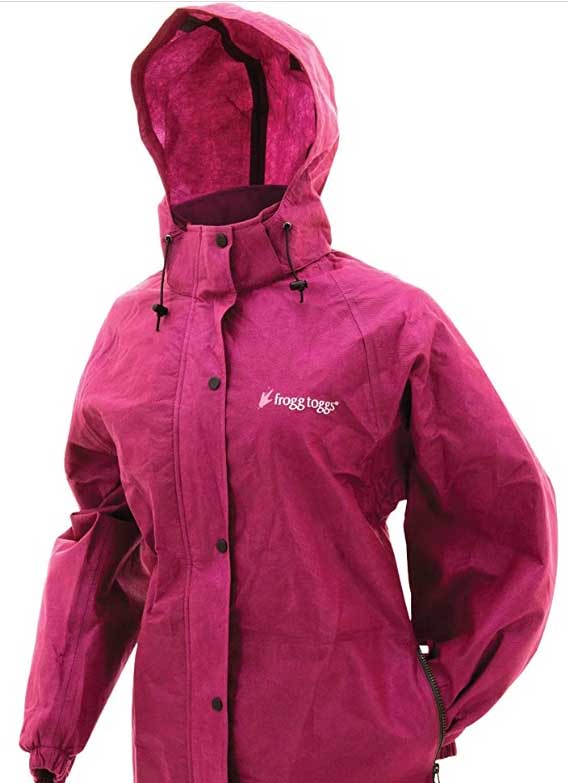 FROGG TOGGS Women's Waterproof Rain Jacket has been made with such materials that will comfort you in any situation. This one is also very lightweight and wind-resistant. So you won't feel uneasy on your journey. It comes with a hood that is tuck-away and adjustable along. Hence, I am not willing to talk about the design because you can see in the picture how gorgeous it is. Finally, if you are going for a hiking date then you can check out my hiking date outfit ideas blog for more suggestions.
For Men
Now it's time for the suggestion of male rain jackets. The three rain jackets that I will suggest to you are very lightweight and durable and also quite waterproof. So I will mention these features while describing them. Don't get confused over it.
1. Columbaa Men's Sherpa Lined Rain Jacket ~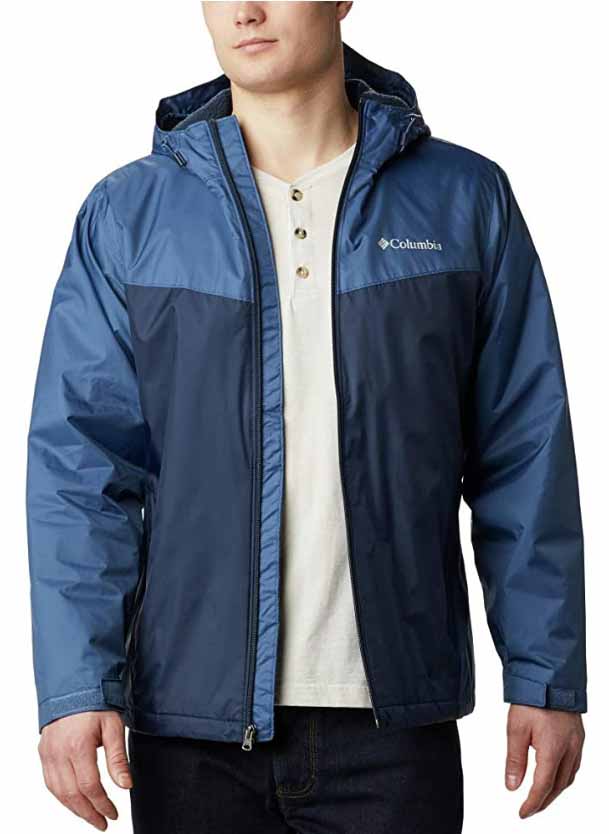 The main material of this male jacket is a nylon taffeta shell that is perfect for the wet season and durable enough. In addition, it comes with some specialties such as a rain protector and a storm hood that is adjustable. Besides, it offers adjustable cuffs including two zippered side pockets that you must have in a rain jacket.
2.Helly-Hansen Windproof Breathable Rain Jacket ~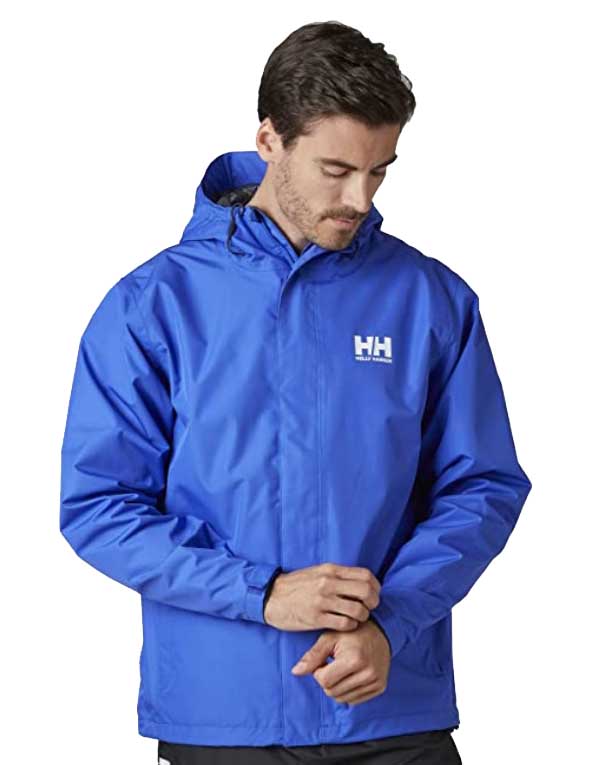 This male jacket comes with a mesmerizing design. The zippered pockets are well-performed for any kind of outdoor excursion. It offers wind-proof fabrics that will protect you in any situation. And yes! This product has a fixed durable hood and it will dry quickly once it gets wet. It is one of the best jackets for you men!
3. Columbia Watertight Ii Jacket ~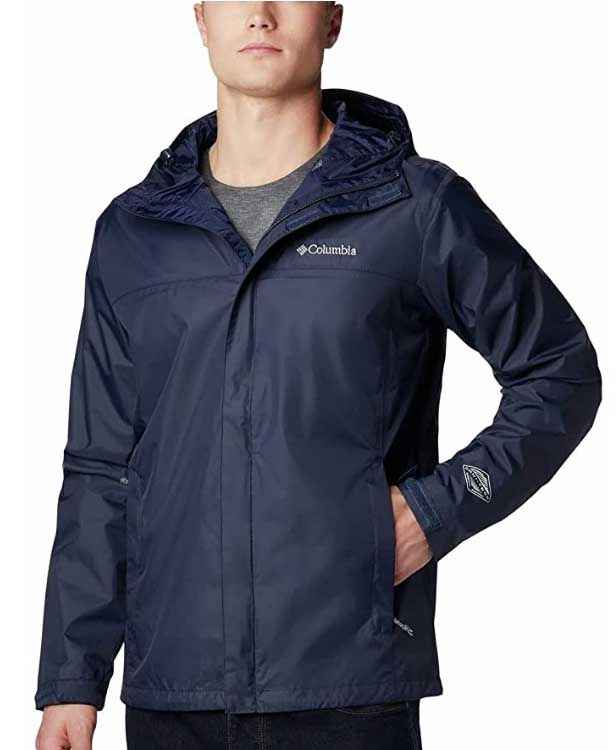 It features enough zippered pockets where you can easily keep your small items secured. Likewise, there is other significance of this product such as- it is designed with Velcro cuffs and an adjustable drawcord hem that will provide this one a perfect fit. And this one is enough roomy inside that will comfort you. Finally, there's a compact design that makes the essential easy to store.
Poncho for Both Genders
FROGG TOGGS Waterproof Breathable Poncho ~ In my opinion, the main point of this poncho is- you can recycle this if you intend to. It features a breathable and water-resistant fabric that is wind-resistant and waterproof also. It holds an adjustable and integrated hood with cord locks and there are side snaps for your extra security. Therefore, this one is perfect for hiking, camping, and other outdoor activities. Moreover, it is the best for any emergency use as well.
Coleman EVA Poncho ~ This Poncho will offer you EVA fabric material including a hood that is full-coverage and adjustable. The side snaps are pretty handy. This product is inexpensive including perfect weight and also will assist you to stay dry while pouring outside. You can carry this poncho instead of an umbrella.
Choose hiking Pants:
Picking best Hiking pants are a must for making your hiking time more comfortable. I am describing below one by one ~
Material and quality come first in everything that I told earlier. So make sure that your hiking pants are made out of water-resistant fabric.
Must be durable and lightweight at the same time.
Those hiking pants must feature zippered pockets. Pockets are essential because you can store some of your tiny things securely.
Bring such pants that feature long ankle zips. Because long ankle zips will allow you to put them on at the same time and take them off without taking off your hiking boots or shoes.
Foot-wear Tips!
It is necessary to get appropriate and comfortable footwear while hiking in the rain. In fact, every hiker needs it! But the first and foremost thing is – boots need to be water-proof or water-resistant. Additionally, bring boots that will keep your feet warm, dry, and comfortable during hiking time. Likewise, hiking socks are similarly important as hiking boots or shoes. Always bring extra socks because rain is totally unexpected during the wet season. And also there is something that you need to follow while choosing socks. Because every attire should be perfect for a successful hiking. Ensure that your socks are able enough to wick extra moisture and that will also help you to avoid blisters. I think this information is okay for you!
Here I have listed some boots for both men and women which I considered as best for the hiking during rainy season. Just check them out and make your decision you get one for you right away.
Best Boots for Hiking in the Rain: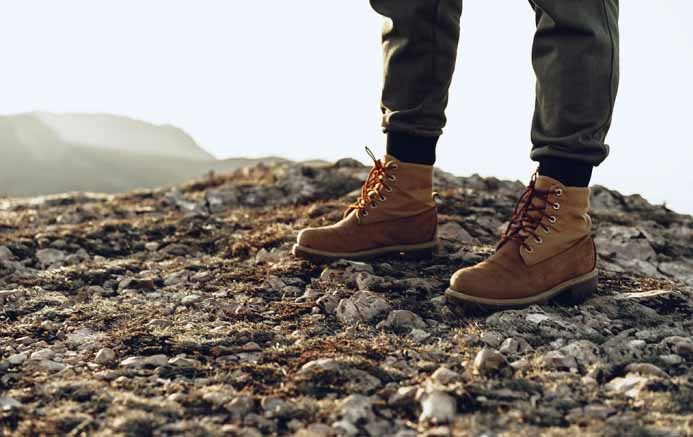 Hiking Boots for Women
es! This point is only for you. There are two brands that I am going to recommend particularly for you ladies who are willing to hike in the rain.
Columbia Newton Waterproof Amped Hiking Shoe ~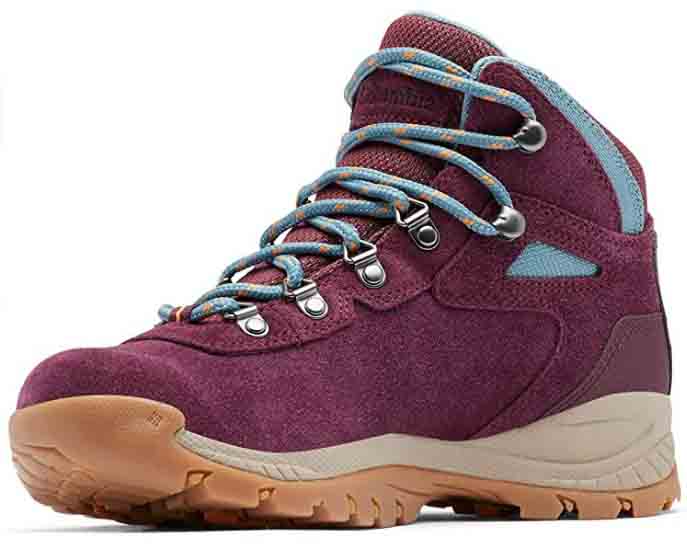 This Hiking Shoe is perfect with gorgeous design waterproof boots particularly for hiking in the wet season. Most importantly, you don't need to think about the quality of this product. However, these boots are going to offer you seam-sealed construction that is water-proof.
KEEN Targhee 3 Mid Waterproof Hiking Boot ~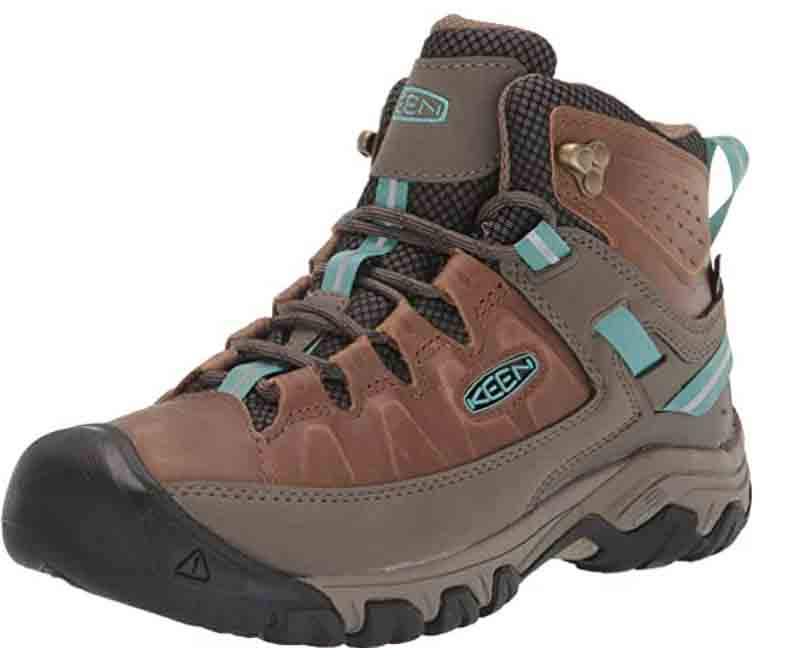 The Targhee 3 features a leather mud shield that supports adequate durability. Hence, on uneven surfaces, its external consistency shank will provide you with lightweight support so that you won't feel uneasy while moving your feet. That's a better point actually! In fact, these boots offer so numerous features that will really give you comfort and keep your feet warm and dry at that moment.
Hiking Boots for Men
Timerland Mid Waterproof Hiking Boots ~
Timerland men's hiking boots are one of the best foot-wears for hiking in the rain along with a stylish design. You will get 100 percent premium full-grain leather that is waterproof and authentic at the same time. This material is on the uppers and this has made the boots quite durable. Oh yeah! These boots are lightweight as well. In addition, these boots primarily feature a seam-sealed design that will help you to keep your feet fully dry during the raining time.
Skechers Relment Pelmo Chukka Boot ~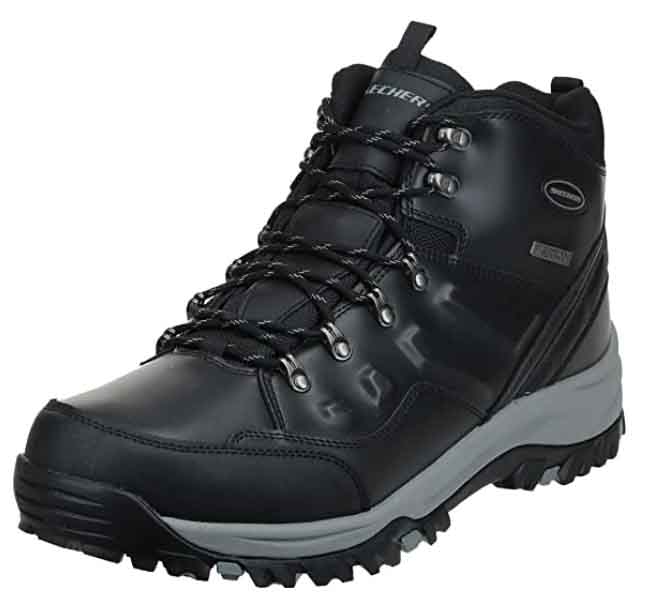 Now come to another stylish footwear. The main sole materials of these boots are rubber. These men's boots are very comfortable to wear, stable, light-weight, and water-proof as well. In the wet season, these will definitely keep your feet warm. And yes! These boots are also waterproof as I am suggesting these for hiking in the rain. You will not regret buying these well-performed hiking boots for sure. You must pick these ones.
Columbia Men's Redmond Waterproof Hiking Shoe ~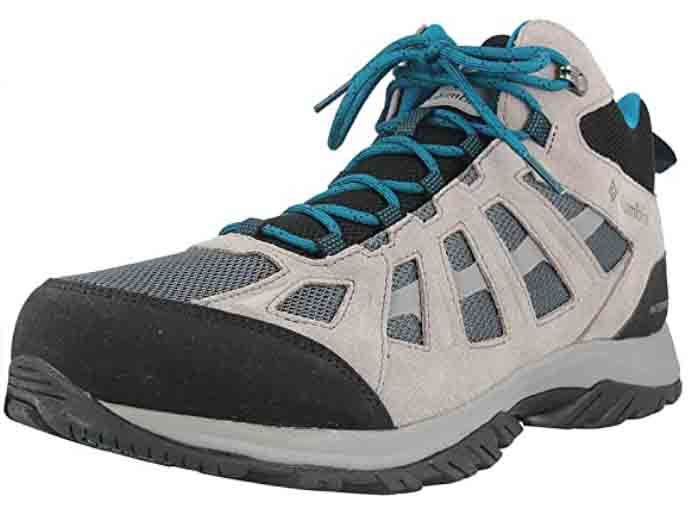 The outer material of these foot-wears is suede while the sole material is rubber where the sole is quite flexible. However, these will also keep your feet relatively warm. And there's another significance. These boots will work great in the snow and sleet besides rain. If your feet are sensitive and you face a lot of trouble while hiking in the wet season, then you should get this one.
Merrell Moab 2 Mid Waterproof Hiking Boot ~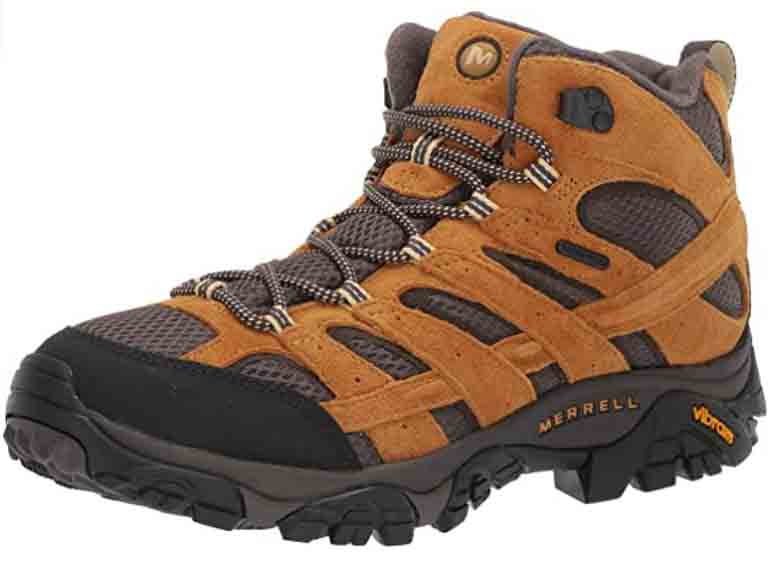 The main material of Merrell Men's Moab boot is pigskin leather and mesh upper that is 100% authentic and durable as well. Hence, the sole material is synthetic. The goal of this brand is to assist you to locate the new and amazing hidden beauties of the trail. It is designed in such a way that provides you with numerous features for instance: its versatile performance, protective toe cap, and durability will undoubtedly give you comfort.
Best 4 Waterproof Backpacks Suggestions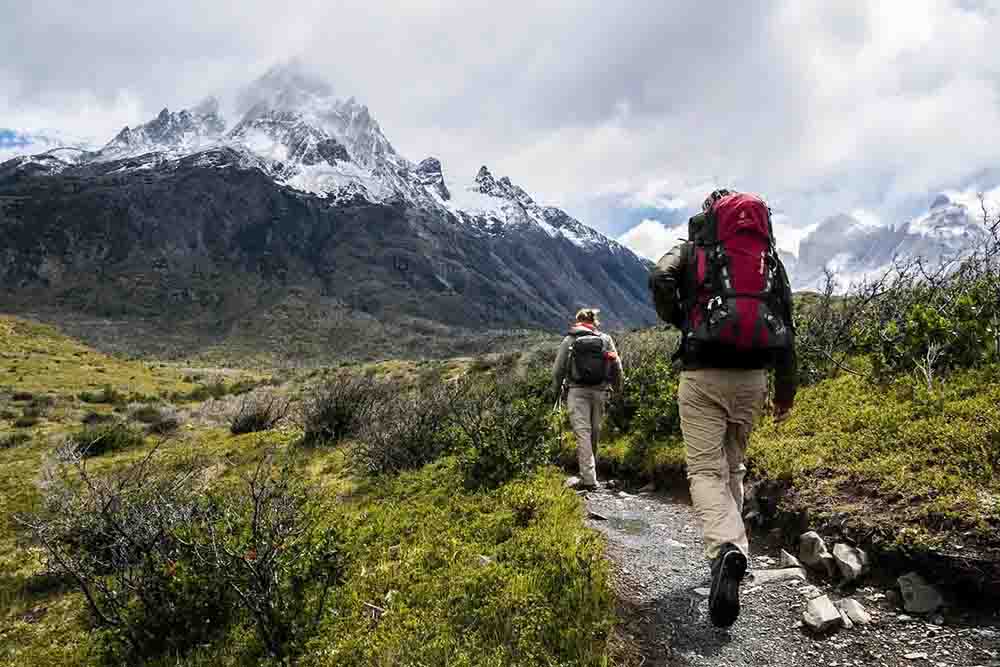 Now it's time for a backpack. You must need a backpack for a long journey while hiking. So I am suggesting the 4 best Waterproof Backpacks for both men and women. Here I am not distinguishing the points.
Overboard Pro-Vis Waterproof Backpack ~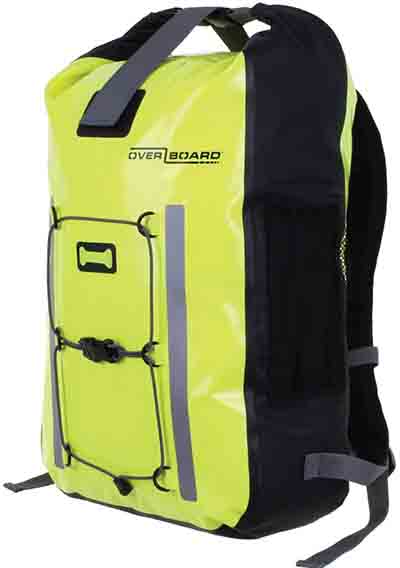 From this backpack, I will be starting to describe the backpacks. Those who need to go out in the wet season and are also very interested to hike always need a backpack that is very lightweight along with waterproof. And this Overboard is such a kind of backpack. It is constructed with unique seamless material that has made the product more comfortable, durable, and strong. Hence, this one is suitable for any kind of outdoor activity. You may use this backpack for water sports as well. Because it is designed to protect all of your stuff from water.
BackSåk Waterproof Floating Backpack ~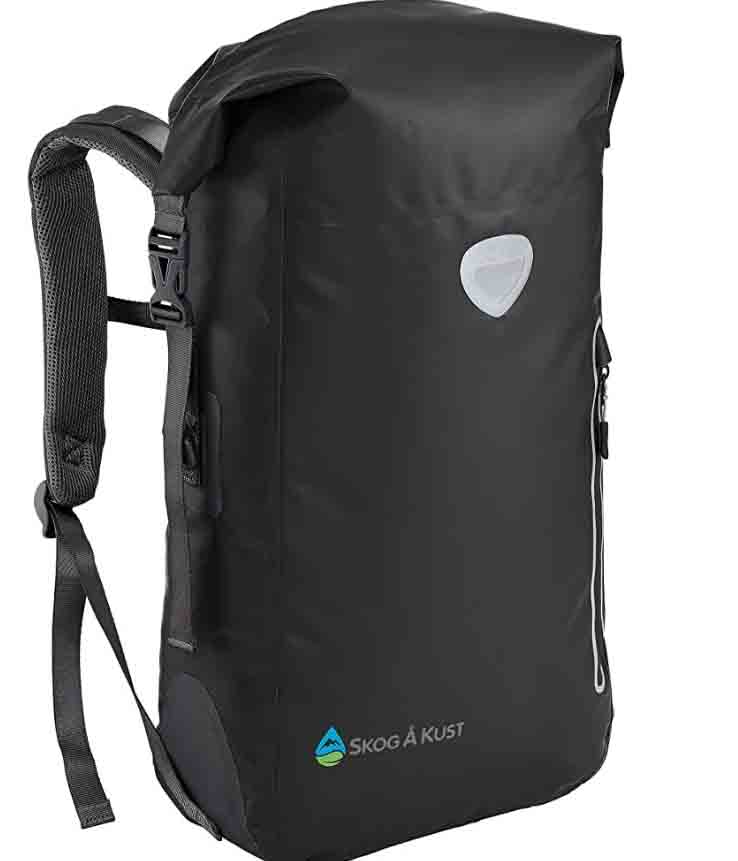 This product offersprotection from all kinds of weather. Since, it is made from such material that is basically heavy-duty 500-denier PVC. Moreover, it will provide you with protective pockets for carrying your electronic products. Ultimately, this product will also assist you to stay away from the tension of wasting your gear due to rain or water.
TETON Sports Ultralight Plus Backpacks ~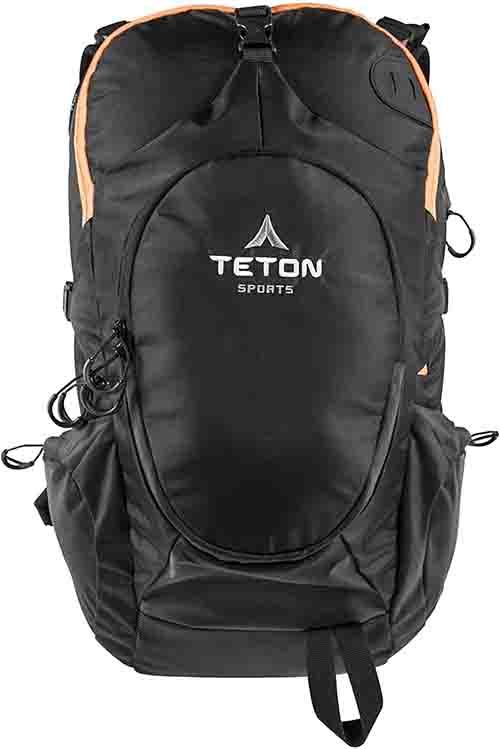 TETON Sports Backpacks come with a unique design including strong characteristics. It has numerous storage options such as: five exterior pockets including a large exterior dump pocket and also inside you will get three additional pockets. Likewise, you can carry your laptop within as there's enough storage for gadgets. There's a large drop pouch that is ideal for keeping your gears to access, such as snacks and jackets. In a nutshell, this product is perfect for your outdoor excursion.
Maelstrom Hiking Backpack ~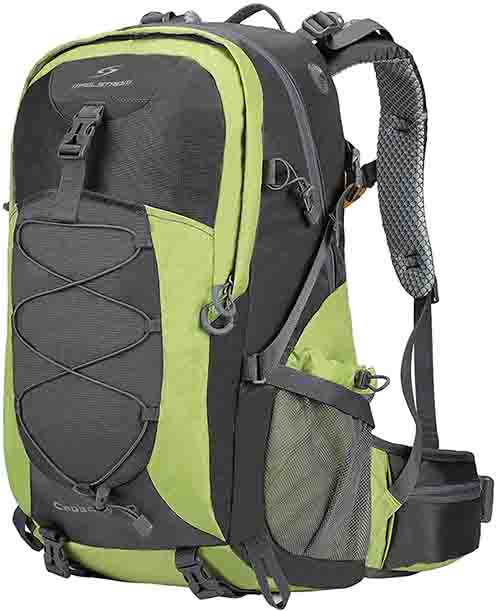 Maelstrom Backpack is well known for its best quality and decorous design. Here I am talking about Maelstrom Hiking Backpack that you can see in the picture how gorgeous this one is! It offers the best material such as: rip-stop 210d nylon fabric that is well sturdy, anti-scratch, and water-resistant also. This hiking backpack will have several essential pockets so that you can conveniently organize your gears safely inside that will also keep those dry during rain. One more significant point here that I cannot miss. It features an ergonomic ring handle that is durable and also labor-saving.
Foods Suggestions: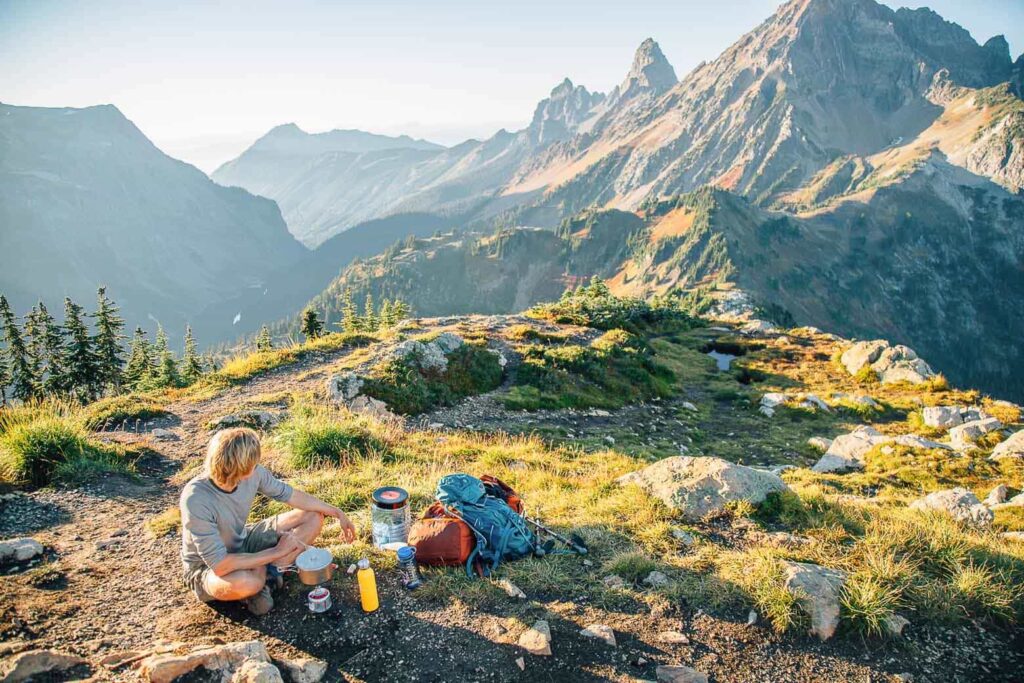 I am adding a section named "Foods" because I think foods are also an integral part of hiking. And obviously, this one will be a bit longer. So, this section is for only foods that you can carry while hiking in the rain. Here I am separating this section into two parts such as Snacks and Heavy foods. Snacks will meet your hunger for a short time while heavy foods you can have for lunch and dinner. I will show you the way for solving cooking problems along with which dry foods you can take without any dilemma.
Snacks or Dry Foods
Some fresh fruits that will not have any possibility to decompose such as bananas, oranges, and apples as well.
Then you can bring nuts or nut butter packs, and some cookies.
Don't forget to bring instant coffee or tea along with hot water in a bottle.
So, I hope these dry foods suggestions are enough for you. These dry foods will meet your hunger immediately.
Heavy Foods:
Hence, dry foods are not always a long-term solution. Sometimes you will need some heavier foods that are considered for lunch and dinner. Therefore, you need to carry some foods that will be easier to cook immediately. Don't think about how you will keep those foods cold as I have a nice detailed blog which you can read and get a better idea. I suggest you to take ready to eat packaged food items and also some cup noodles. Well, I am pretty sure that you are thinking now about how you will cook your food there. I also have an easy solution for this. Let's check out below….
Cooking Solution:
For cooking food, you need to choose the correct stove. It is the initial step. In that case, you can bring a liquid fuel stove including a windscreen. Or you may bring a canister stove. In windy or chilly weather, canister stoves are really effective. But in canister stoves, there is a warning for you! You need to strictly maintain this warning for your safety. And that is – do not entirely surround them on a screen. Although the heat from the canisters can cause these products to burst. It is a precaution. So you can construct a heavy stone or rock wall to protect the flame.
Hiking Places in the USA during Rainy Season:
Those who love rain and always want to travel or hike in the rain but are confused enough to select the best destination. Then don't worry. This article will also provide you with some of the best-hiking destinations during rainy times. Now I will describe some of the safest places in the United States that are safe for hiking in the rain. You all know that places play a significant role from hiking to everywhere. So I have selected some of the safest places in the United States for you so that you will not face any confusion to choose your destination.
Five Best Rainiest Places in the USA for Hiking in the Rain:
Meanwhile, I have an amazing news to give you. And that is especially for only the rain-lovers. The worldwide average rainfall is increasing day by day! You became happy after hearing this. I got it! Hence, below I am trying to mention some rainy hiking places for you to double your happiness!!! More or less I am going to provide you with some features of those places and the campgrounds that you can stay near your destination. So now starts to get some names of the best-hiking destinations in the United States!
1. Mount Waialeale – Hawaii ~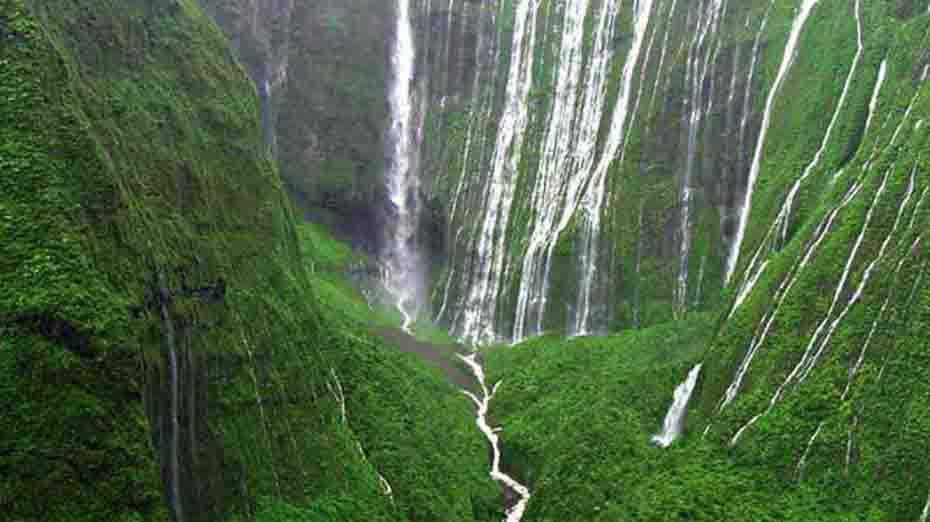 Mount Waialeale is known and at the same time is famous for the gorgeous island and referred to as the wettest place on earth with an annual rainfall of almost 450 inches or 11430 mm. And yes! It is referred to as the rainiest island in Hawaii with a breathtaking view. Because Mount Waialeale experiences heavy rainfall and 373 inches of rain each year on an average (Approximate). In addition, when it is about natural beauty with lots of rain, then I am pretty sure that the name of Mount Waialeale will come first.
4 Important Characteristics of This Island:
Hence, there are three interesting features of this greatest one. Such as:
Geologically this place is one of the oldest islands.
One of the tallest peaks in Kauai (5000 feet tall).
This island is the second highest peak.
Additionally, it is one of the most diversely weathered islands ever that I have already mentioned above. But for your kind information, I want to let you know that after the massive rainfall, the area was given the name "Rippling Water" or "Overflowing Water.
In conclusion, this island will be the perfect choice for you guys I bet! Especially for those who want rain with a splendid view.
Places to Stay Nearby:
It's Kokee State Park. Yeah, you can camp here. In fact, it is one of the best places so far. The area is quite beautiful and clean enough. However, do you know why this place is the best as a camping spot? Because the camping spot is surrounded by hikes including beautiful waterfalls. In addition, the island can take you to the island's interior. Moreover, The State of Hawaii runs this camping spot. And you will get everything here from this amazing campground such as: a beautiful restaurant, indoor toilets including showers as well as a gift shop.
2. Hoh Rainforest ~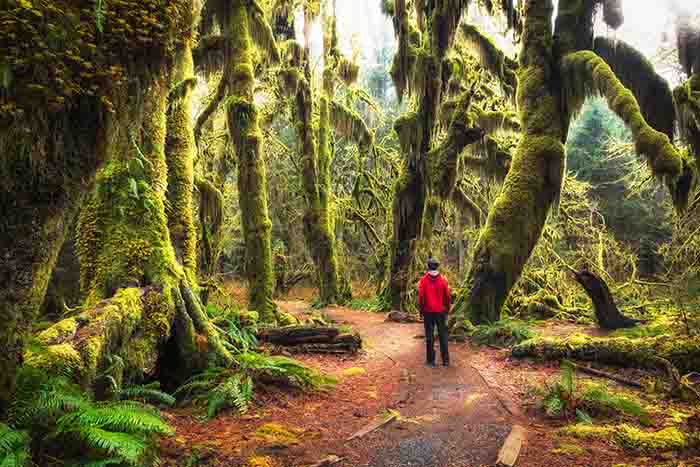 The Hoh rainforest located on the Olympic Peninsula in Western Washington State, is considered one of the country's largest rainforests. The Hoh is one of the park's most popular locations ever. This rainforest that stretches for 24 miles along the Hoh River, is the northernmost rainforest in the lower 48 states. Hence, in the United States, it is referred to as one of the best remaining examples of temperate rainforests. So can you tell me why this rainforest is called the wettest forest in the contiguous United States? It is the wettest one because this rainforest meets with nearly 200 inches of rain per year. In addition, during the winter season, even this rainforest receives a lot of continuous rain.
So this rainforest can be the best choice for those people who love rain in the winter season. Can you imagine? Cold weather with rain? Ahh! It will be an amazing experience.
Places to Stay Nearby:
It's Hoh Rainforest Campground which is located in an old-growth, temperate rainforest along the Hoh River. This campground is much closer to the Hoh Rainforest Visitor Centre and Ranger Station as well. Moreover, you will get this Hoh Rainforest Campground within the rainforest. This campground provides 88 campsites with splendid views. And you know what? You can get tents and trailers from those campsites. Likewise, a table, fire ring, and grill will also be offered at each campsite. On top of that, you will never feel like you are lacking a cozy station and restrooms including hygienic flush toilets there. This place is quite peaceful and accommodative.
3. Ketchikan, Alaska ~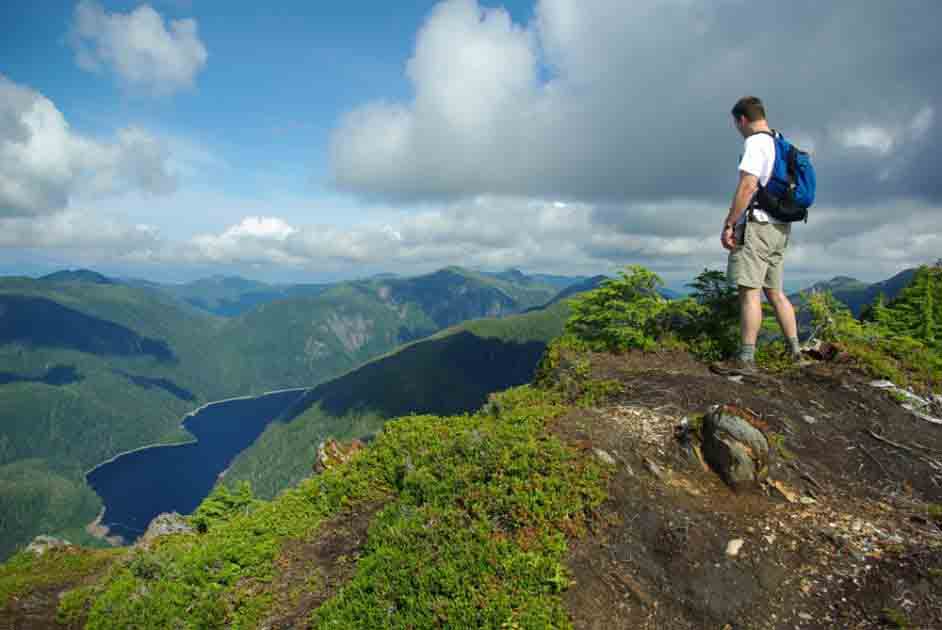 Ketchikan, Alaska is also one of the best-hiking destinations in the United States for hiking in the rain. In Alaska and similarly in the United States, Ketchikan is considered the rainiest city ever. Likewise, in the part of Alaska, Ketchikan has very amazing geography and life is also so interesting here. This place is very beautiful and loaded with natural beauties.
Places to Stay Nearby:
In this case, Deer Mountain Shelter is a perfect, safe, and also the best place to stay near Ketchikan relatively. The hike up to this shelter is fairly challenging. The hike is only about three kilometers long and it is always uphill. This one is quite difficult yet very comfortable and peaceful as well. You can easily enjoy and observe the spectacular views of the mountains and alpine. Yes! This shelter will offer you all these beauties. Hence, you can also get the opportunity to enjoy wildlife viewing. It is so thrilling!!! Especially, if you are willing to enjoy the beauty of wildlife directly, then this Deer Mountain Shelter will be the best place near Ketchikan.
Other campgrounds includes:
Signal Creek Campground.
Black Sands Marine State Park – Black Island Campsite.
Icehouse Cove Buoy Camping Area.
Three Cs Group NF Campground.
Ketchikan – Misty RD.
Settlers Cove State Rec Area.
Totem Bight Park.
Tongass National Forest Three C's Ground Use Campground.
Last Chance Campground.
4. Cashiers, North Carolina, USA ~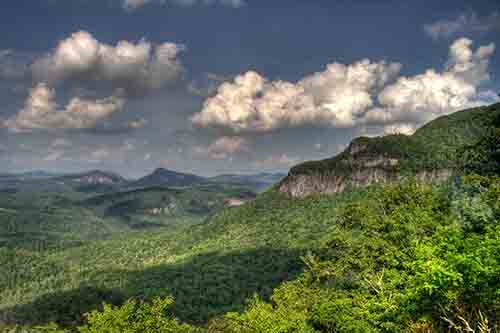 Who doesn't want to lose in the midst of the beautiful mountain peaks? Almost everyone! If you are one of those then you must go for Cashiers, North Carolina, in the United States. Because in the midst of the Nantahala National Forest, you will adore being surrounded by breathtaking mountain peaks. There is another good news for you! This place receives 81 inches per year (on average) and 11 inches of snow annually (on average). Therefore, rain lovers will love this destination. Nature lovers select this beautiful place for spending their vacation as this is surrounded by natural beauties. This place is very popular and perfect for any weekend gateway as well. Even there you can arrange and participate in any outdoor activities.
Specialty of this Place:
Cashiers, North Carolina is famous for a few things such as:
Famous for amazing waterfalls.
For beautiful hiking trails.
This destination has beautiful Gorges State Park.
The village green.
Panther Town Valley and
The Cashiers Farmers Market.
Offers a beautiful picnic spot.
Places to Stay Nearby:
Panther Town Valley often known as "The Yosemite of the East " is a popular tourist destination. This is one of the most beautiful natural regions located in the southeastern United States. More than 35000 tourists visit this beautiful place. But there are also some restrictions that need to be followed strictly. It is a great place for hikers for exploring numerous trails and footpaths in the Panther Town Valley. Expansive valleys, mountain bogs, granitic rock domes, peaceful rivers, and falling waterfalls are all available to visitors. So if you are willing to hike in the midst of the beauty of nature then you should add this place to your traveling list.
5. Laurel Mountain, Polk County, Oregon, United States ~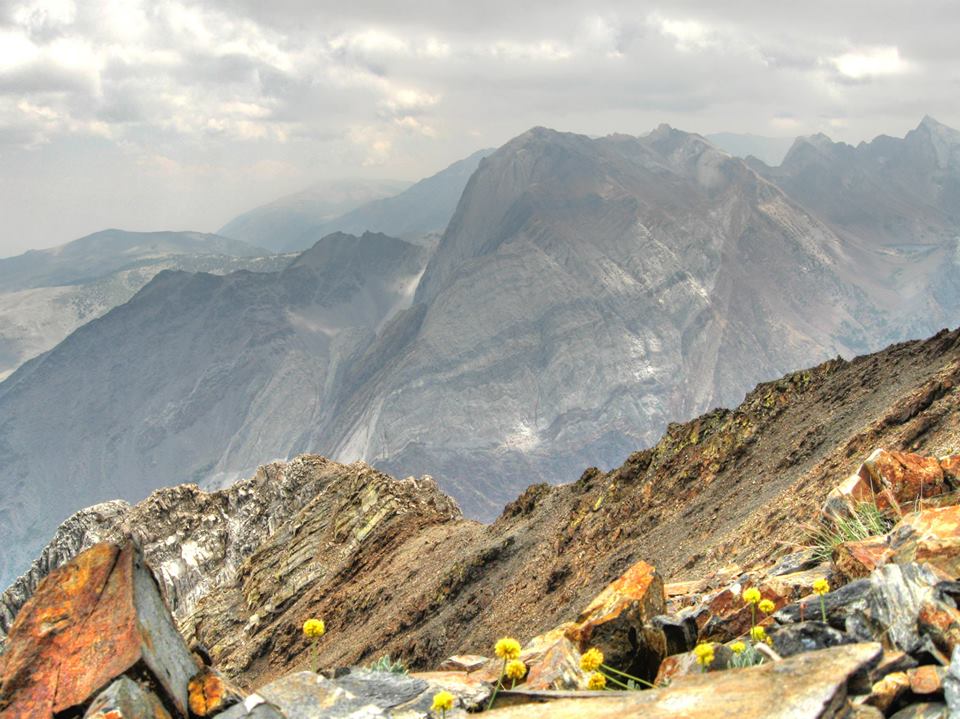 With an elevation of 3592 feet, Laurel Mountain is considered Oregon's fourth highest peak in the Central Coast Range. This highest mountain peak is situated in Polk County which is west of the city of Dallas.
Laurel Mountain in Oregon is referred to as the rainiest place. Since 1997, this mountain has been named the wettest spot in Oregon. At the top of this Mountain, the rainfall can reach up to 200 inches per year because of the coast and year-round mild weather. However, this mountain flaunts its natural beauty throughout the whole year. If you glance off into the forest, then you will be able to see that there are numerous rhododendrons compared to the other spots, which is most likely due to the heavy rainfall. But it is so easy for you to access this mountain. For access, you have to get permission to the summit. That means this mountain is not the easiest peak in the Coastal Range to reach as a destination.
Places to Stay Nearby: Saddle Mountain State
If you do not like crowds like me then you can undoubtedly go to Saddle Mountain Stateto spend your vacation. You can make your camp here. This Saddle Mountain State is quite peaceful for the hike you know and it is close to the coastal mountain as well. And do you know why the hikers choose this Saddle Mountain State Recreation Area for their hiking? Because, hiking is the main attraction of this state. Additionally, once you reach its summit, you will enjoy the breathtaking views. Moreover, from the top, you will enjoy Laurel Mountain and the Pacific Ocean at the same time if the weather is quite clear. You may get less rain here yet you will get more accessibility.
Conclusion
I have tried my hardest to assist you with all the information that you need for hiking in the rain. I strongly believe that you can get all the points from this article. Hiking will definitely give you mental and physical peace including an adventurous experience. You just have to remain careful while hiking to avoid any kind of circumstances. Hence, make sure that you are carrying adequate food and beverages including proper clothes with you. However, keep vigilant while selecting places. That's all! Stay adventurous!